Power to the fans.
Brickheads and Sonic fans alike rejoice – the blue blur is coming to a LEGO set near you at some point in the future.
LEGO made the announcement via blog post and video as part of its regular review of fan submissions that receives 10,000 votes. Fans are encouraged to conceptualize sets, build a mock-up, and solicit support through the LEGO Ideas portal with submissions meeting the lofty threshold getting looked over by the LEGO team. If the set fits within LEGO's capacity and interests they give it the green light as they did with a take on Vincent Van Gogh's "Starry Night", depicted via fan creation below.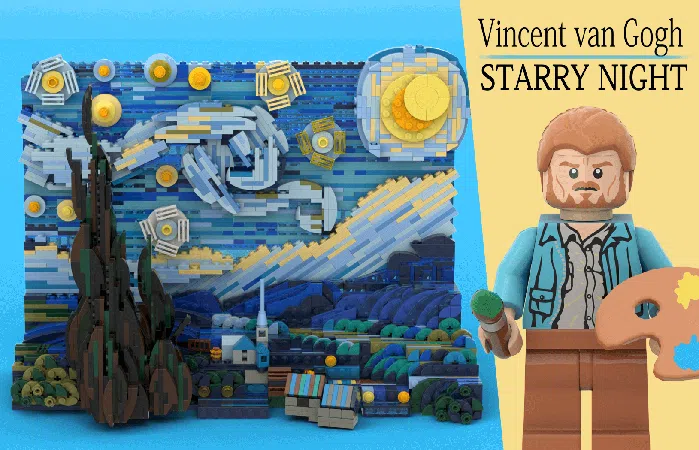 Building a set around a classic work of art is relatively straightforward: If LEGO wants to do it there are few, if any, barriers. Building a set around intellectual property (IP) owned by another company, however, requires them to license the IP, earning approval on final specs.
So it was a pleasant surprise when they announced that a Sonic Mania inspired fan-set was approved, especially given the set should have been under review in the last cycle, not now. Some feared SEGA pre-emptively ixnayed the project, though it now appears those fears were unfounded, though further information on the set isn't yet available.
23-year-old Viv Grannell is credited with creating the successful submission and was inspired by the success of the Sonic redux Sonic Mania as well as LEGO sets (and failures) like the Minecraft x LEGO crossover, the failure of the fan-made Portal 2 set, and the sole Sonic minifig that resulted from the ill-fated LEGO Dimensions.
"I think all the pieces are pretty obvious to put together from here, right? I love Sonic and I love LEGO, and have done so for both since I was young. LEGO Dimensions gave us a single minifigure and absolutely nothing else," Grannel tells LEGO.
"Mania is the impossible dream, an oxymoron harnessed – small enough of an experience that it'd only need one set design done well to cover reasonably comprehensively, while large enough of an event that I could gamble 9,999 other people would agree with me. Vintage enough for the older generation to recognise it and find nostalgia in that recognition, while recent enough for the younger generation to have tasted the magic and want to seek it out. Familiar, yet fresh. Old, yet new. And yet, in all of this, still distinctly Sonic."
You can vote on–or create your own–fan creations at the LEGO Ideas site. Designs depicted above are not final and reflect the submissions only.