Some 200 days after its birth, Wordle is taking the Internet by storm, 30 little coloured square emojis at a time. If it hasn't yet swamped your Discord servers, Twitter feeds, and family group chats, it's only a matter of time before you come across the smash hit.
Deceptively simple, the goal is to suss out a random five-letter word, within only six tries. The initial guess can be any five-letter word you dream up. There are no clues at this stage, no hints to speak of or other signs to guide you.
After your first guess the game is afoot. Wrong letters are grayed – discouraging their further use – while correct tiles come in two forms. Those letters that are both featured in the word and in the correct spots turn green. Yellow tiles, meanwhile, reveal a correct letter that happens to be in the wrong spot. Letters can repeat, too, so it's possible to reveal both a green version and yellow version of the same letter in a puzzle.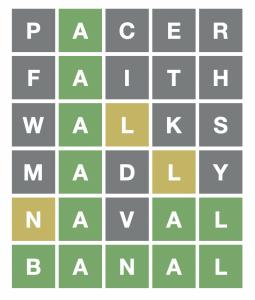 The viral nature of the game comes from three powerful design decisions. First, there is only a single puzzle to be played on any given day and the puzzle is the same for every player around the world. Second, there is no barrier to play, no sign-up or massive tutorial, you just hop on in. Finally, the game encourages you to share your results, albeit in the aforementioned emoji form.
The bragging rights that come from an early match – say guess two or three – are almost as much fun as the hail mary reveal of a guess on your sixth and final try. Sharing your results doesn't spoil the game for anyone else, either, unless you reveal the right word or your finished board.
Here's our Emoji board from the puzzle above.
⬜🟩⬜⬜⬜
⬜🟩⬜⬜⬜
⬜🟩🟨⬜⬜
⬜🟩⬜🟨⬜
🟨🟩⬜🟩🟩
🟩🟩🟩🟩🟩
Already a variety of strategies are emerging. Choosing your first word such that it has a hearty mix of vowels such as ADIEU or RADIO can help narrow the field of play early with some players having a dedicated first word. Others attempt to brute force their way through a puzzle, using grayed out letters in subsequent guesses as they try to confirm other letters. (For its part, the game offers a dedicated hard mode, restricting your ability to play this way as revealed letters must be used in later guesses.)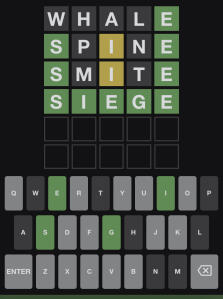 Regardless of how you choose to play, Wordle is a game filled with abundant charm, and it's one we hope to keep playing well into the future.
In case you didn't notice…
We went out of our way to use five-letter words in this piece. Sure, some sentences are a little janky, but once Wordle is in your brain you won't be able to get it out.
birth
storm
feeds
group
chats
smash
tries
guess
dream
clues
stage
hints
signs
guide
after
first
afoot
wrong
tiles
forms
those
above
spots
viral
given
world
emoji
early
match
sixth
final
spoil
board
field
brute
force
other
charm
-With files from Evan McIntosh and Aaron Hudspeth