No dice? All the dice!
You almost can't help but take notice.
There's a click clack and a lub-dub as the light refracts around the crisp lines and alluring colour. A lump forms in your throat as you feel the heft of the die in your hand.
It's love at first sight. And first roll.
Sure, you only rolled a 7 that time, but you can tell this is the one.
Dice collecting, like any hobby, is deeply personal to each hobbyist — no two collections are the same, just as no two people, nor their fingerprints, are the same.
It's a compulsion that isn't rooted in completion, as collecting trading cards may be, nor is it character driven, as in Amiibo or Funko. Sneakerheads often feel a tie to their sport–be it skate or basketball or something else entirely–and are drawn in by superstars and designers alike. Fossil and art collectors, those striving to create their own personal museums, are compelled to own history, creating their own legacy by owning someone or something else's.
When it comes to collecting dice, though, the reasons for collecting are less concrete.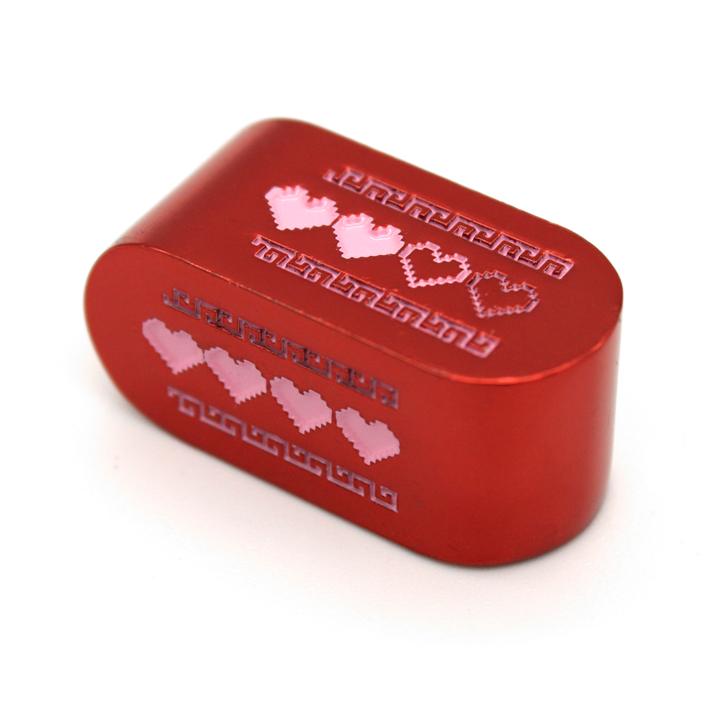 Dice Envy
"It's the feel of the roll, it's the clunk. It's like a very instinctual, reptile-brain 'pleasingness' to [collecting dice]" says David Derus, the owner of a popular storefront called Dice Envy.
The store's About page gives more insight into the habits of collectors, calling dice "pocket sized tokens of creativity", that are "fun to share and collect…They thrill us when they deal out max damage and we secretly love it when one of our friends compliment our new set."
"I also feel like the price is right for a hobby," Derus continues, "you're looking at somewhere between $6 and $20, for a set of dice. It's pretty reasonable.
"It's not like you're trying to trade diamonds or something like that. And I also feel like it's a bit like jewelry. Technically no one needs any jewelry but you feel better having it around and it's flashy and pretty and you enjoy looking at it."
The aesthetic appeal of dice can manifest itself in different ways.
"For each of my characters, I put together two to four sets that fit the style and aesthetic of that character, and I use those dice exclusively for that character" says Andrew Fallows, a web developer, TTRPG designer, and D&D enthusiast who owns approximately 500 dice.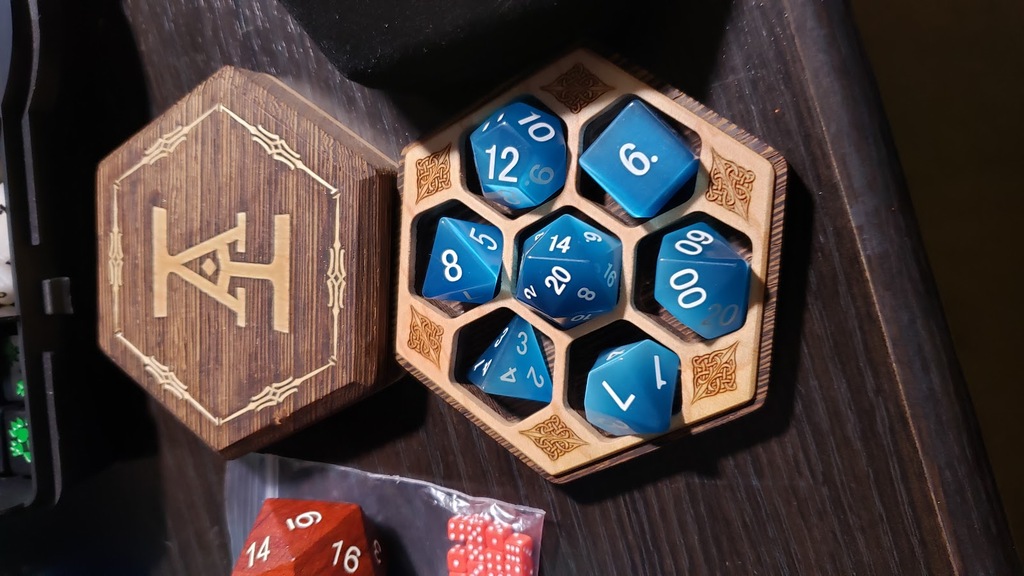 One of his favourite dice sets represents his own personal favourite character, a water genasi paladin named Turquoise Stormwave, with each set in his pool representing a different part of his character, "including a set for his father and one for his mother".
The set even gets its own special home in the form of a custom-made dice bag with a "beachy theme" fitting the character's nature.
Sentimental items
Items like Turquoise Stormwave's custom dice and bag carry sentimental value for their owners, taking on significance in multiple areas of life, representing the things and people that matter most.
"Recently I've gotten a lot more selective in the dice I get," says John Bain-Wysocki, a Special Education Paraprofessional, "usually super pretty dice, or to commemorate an event. I have a set that matches my wife and I's wedding colors."
Tastefully marbled through with swirls of gold, the dice are curvy in all the right places, with a striking shade of blue for the numbering, a fitting commemoration of an important event.

The why of each collection varies, somewhat, but often it's also deeply connected to the games played by their owners, an extension of another hobby, a passion that spills over to create another altogether.
"I got my first set of dice in 8th grade," says Bain-Wysocki, "they were purple with yellow points. I accidentally left them on top of my car when I was driving to a game one day, so I ended up getting more. Then I realized I needed more dice in case the same thing happened again."
Andrew Fallows, the web developer, got his first set of dice around age 15 while trying out Dungeons and Dragons, expanding his collection to play Werewolf and Exalted, where the d10 is essential to playing.
"That kept me going through high school and college, and for a while after that I was out of the hobby, but in 2017 I got back into Dungeons and Dragons in a big way, first because of The Adventure Zone and then because of The "C" Team.
"Through the fan communities for those shows, I started playing again, and I quickly started collecting dice as part of the hobby. I switched from "I keep buying dice" to "I am a dice collector" some time in 2019.
"My very favorite individual set is the Cat's Eye Aquamarine set that I keep in the Acquisitions Incorporated hex chest that I won as a viewer of the "C" Team, though I don't really use this set, they're a decorative collection piece that I bought because they're beautiful."
A Store is Born
David Derus has always been into dice, a passion that began while he was playing D&D as a teenager, and later weekend-long play sessions of Star Wars: The Roleplaying Game, a hobby that led to the creation of his Dice Envy business.
"I had a job that I really loved, but it wasn't paying enough, and so I needed a side hustle and I thought I should do something that I love. I mean, I've always been super into dice, I didn't realize how many people were like me at the time and that there would be more coming along the way.
"I just started a little Etsy shop and that was my first year. And then second year I was able to hire some employees and we were doing more business. We walked away from Etsy and opened up our own store, [while] we started hitting conventions."
Dice Envy's business reflects what Derus values in his dice, their creations made out of resin, acrylic, metal, wood, and, in some cases, gemstone; a business that strives to create lifelong customers, creating a platform for content creators, and supporting the Extra Life charity.
Everybody likes the 'shiny click clack math rocks'.
"I personally love swirls or the vapor type inclusions that basically look like a drop of food coloring…frozen inside it, those are my favorite. It can't be too complicated, it needs to hit one or two notes really well. So maybe a cool inclusion and a nice color, but [it's possible to] do too much with a set of dice.
"I'm not concerned about balance [but] I'd say easily readable needs to be up there. There's choices in the fonts that you can make that in the coloring, the contrast of coloring between the numbers and the die itself. [Secondly], it's got to have some flair: Your standard set of ivory d6's in a Monopoly game has zero flair, but they're perfectly readable. I would prefer those over some other ones we've tried where they're almost like an art piece first and a set of dice afterwards.
"For example, we're going big on engraved sets of dice this year. We have one right now that is a bard set of dice that has music notes and that's great, but that's the selling point of those dice, the music notes. We try to make sure that one choice is like an elegant choice instead of just a …wild choice."
Sharing is Caring
John Bain-Wysocki, the Special Education Paraprofessional, has been downsizing his collection by sharing his hobbies with others.
"For a long time I had friends without dice sets, and I realized it was cheaper for me to buy in bulk and loan out, and to have everybody buy their own sets," he notes, "I've given away about 100 dice to students and other kids I've worked with.
"When I was working at a youth mental health facility, I would give away dice to the clients who discharged and were part of my D&D group. Everybody likes the 'shiny click clack math rocks'…so if I loan somebody some dice, and they get really into a session, if it's their first or second time playing, I'll have them pick out some dice."
The tactile nature of dice–the feel of them, the sound they make, all of it–is both perfect for sharing and intimate on an individual level, an experience, a feeling, that can't be replicated any other way.
"I get a little bored at the table, especially when it's not my turn," adds Derus, the dice seller. "I'm just waiting around trying to not disengage on my phone, but also wanting to kind of keep my mind in a TTRPG space, stacking my dice, looking at my dice, talking about dice, like that all helps me kind of keep my head space. 
"It's the weight: it's very satisfying to roll. You don't even need one set. You can have a dice rolling app on your phone, but that's no fun."
Aaron Hudspeth is the co-founder and Technical Director of Liftoff! He spends his weekends playing D&D, and his dice collection is spectacular, though small.
TOP IMAGE: Andrew Fallows