Every mainline entry definitively ranked by tier.
With Assassin's Creed Valhalla recently announced, there's no better time to take a look back at the mainline Assassin's Creed entries that have graced our screens since the series debuted in 2007.
The series has been all over the world – from the Middle East as of the Third Crusade to England during the Industrial Revolution – and its next step is to bring fans an alternate retelling of the 873 AD Viking invasion of Britain.
Before setting off on a journey in Assassin's Creed Valhalla with raider Eivor later this year, let's take a look back at everywhere the other Assassins have been over the past 13 years.
I've done the heavy lifting for you, rounding up the core games comprising the main Assassin's Creed saga and ranking them in terms of their setting, premise, and overall gameplay mechanics. Then, they've received an Assassin's Rank on top of their star ratings: "Dull, Decent, and Deadly."
Let's take a leap of faith into the past.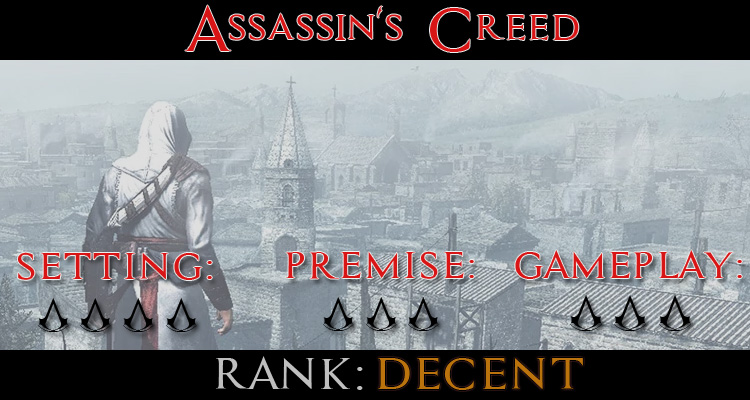 The very first Assassin's Creed entry takes us to the year 1191, set in the Middle East during the Third Crusade. While it's an intriguing time featuring England, France, and the Holy Roman Empire warring, what's most interesting about this particular installment is its introduction of Desmond Miles, who's reliving the genetic memories of his ancestors by way of a machine called the Animus. For that reason, it's integral to understanding the central Assassin's Creed plot.
Following a botched attempt at stealing a precious artifact, Assassin's Brotherhood member Altair Ibn-La'Ahad is reduced to that of a novice. To restore his honor, he's tasked with eliminating nine individuals, ranging from a scholar looking to destroy all written knowledge to an arms merchant.
Altair has all the standard abilities you'd expect from the series thus far: blending, counter-based combat, and parkour, but the series was in its infancy, and it was all decidedly unrefined. Still, it acted as an exciting blueprint for what was to come, at the time no one had played anything like it. This is the game that started it all and it's worth playing even today.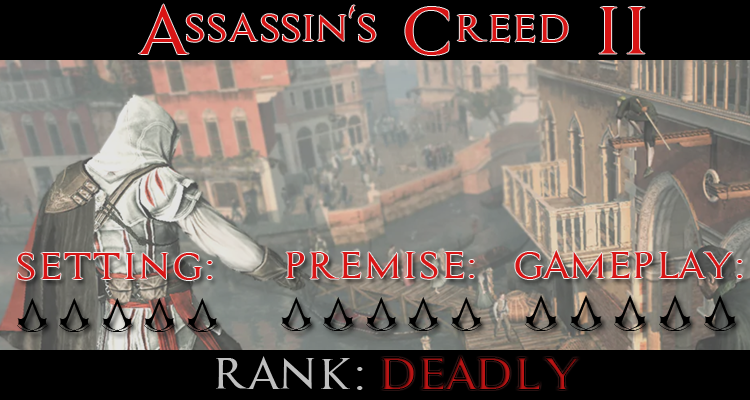 The original Assassin's Creed might have set the stage for what would ultimately become one of Ubisoft's greatest franchises, but Assassin's Creed II was the blueprint for all subsequent entries, fine-tuning everything, especially the combat.
Set during the height of the Italian Renaissance, Assassin's Creed II is both picturesque and intriguing. It dialed the action to 11 when compared to the first game, introducing dual hidden blades, a disarm mechanic, and missions (such as a meeting with Leonardo da Vinci) that felt well worth your time.
Ezio Auditore da Firenze was a smooth-talking ladies' man who didn't so much explore Italy as much as breeze through it. The Renaissance, a criminally underutilized setting for any video game, made for a fantastic way for players to get to know more about a time period they may only have ever thought of in a passing moment in history class. Taking it and turning it into an assassin's paradise may have been Ubisoft's greatest feat.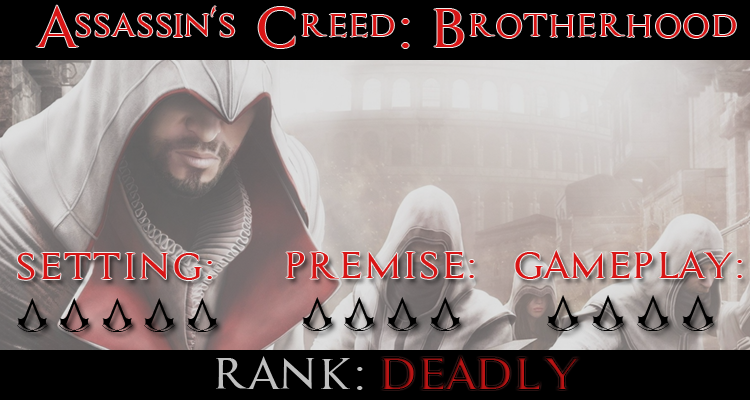 Building off of the success of Assassin's Creed II, Brotherhood delivered more of what audiences were craving: Ezio and the Italian Renaissance period.
Still, as a direct sequel to its predecessor, it couldn't muster quite as much originality as Ezio's first appearance. That's hardly a bad thing. Brotherhood is still quite appealing due to its premise: recruit other assassins and send them off into the world in a bid to complete missions integral to the Assassins' cause.
Ezio splits his time between working in Rome (now torn apart by the malevolent papacy of the Borgias) to recruit new Assassins and putting a stop to the Templar family whose tyranny has torn Rome asunder. A sweet new parachute (thanks to da Vinci), a crossbow, and poison darts for improved stealth kills are welcome additions. It's a solid continuation of the previous game that makes a few improvements, but for the most part it's a healthy second helping of Ezio that's pleasing to the palate.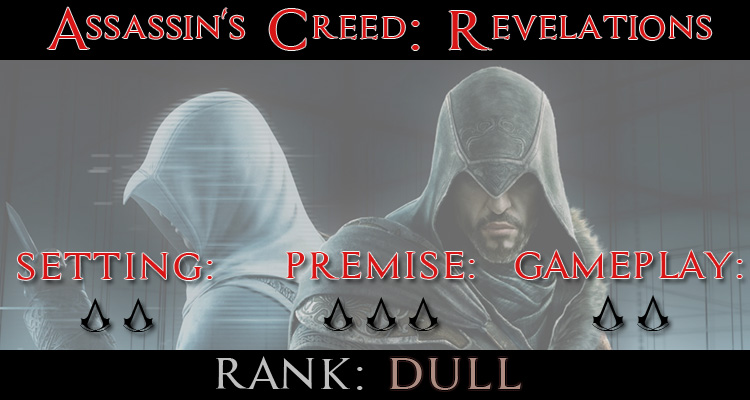 Fans proved their love for Ezio Auditore da Firenze and Altair Ibn-La'Ahad from Assassin's Creed and Assassin's Creed II. Adding both into one game should have made for an explosive combination, right? Alas, it did not.
Set in a fictional version of 12th and 13th century Masyaf for Altair and 16th century Constantinople for Ezio, it borrowed the same open world elements as the previous adventures. While there were a series of detailed environments and plenty of opportunities to utilize both assassins in meaningful ways, it felt overly familiar in negative ways.
New gameplay additions included the hook blade as well as a series of new bombs for Ezio to utilize while taking out targets throughout the game. Unfortunately, these touches weren't enough to breathe life into a game model that was essentially entering the life support phase by then.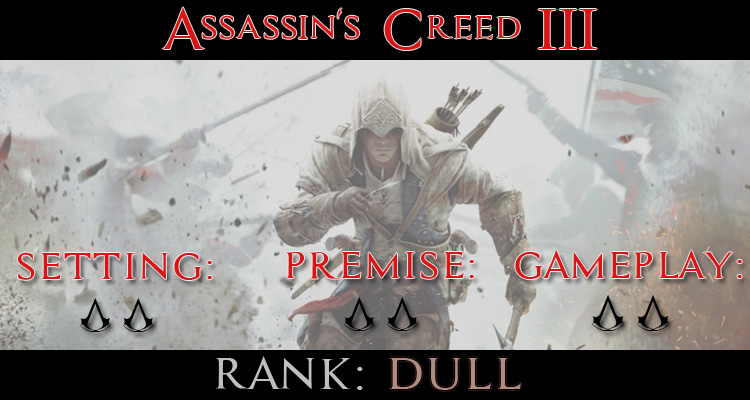 The American Revolution sounds like a great timeline for an Assassin's Creed game: Assassin's Creed III was set in the 18th century before, during, and after the war, as it followed half-English, half-Mohawk Assassin Connor (Ratonhnhaké:ton) working to prevent the Templars' repeated attempts at taking control of the American colonies.
There were also a series of cool additions to the game: weather patterns like rain, fog, and snow as well as seasons. There were traders to interact with as well as naval expeditions, and additional improvements to the classic parkour system players had come to expect.
Except there was one problem: The game was exceedingly dull ahead of introducing Connor, first thrusting fans into the life of Haytham Kenway in 1754 England. It's a veritable slog until there's an opportunity to jump into the shoes of Haytham's son Connor – and by the time it happens, it's hard to want to muster the desire to continue playing.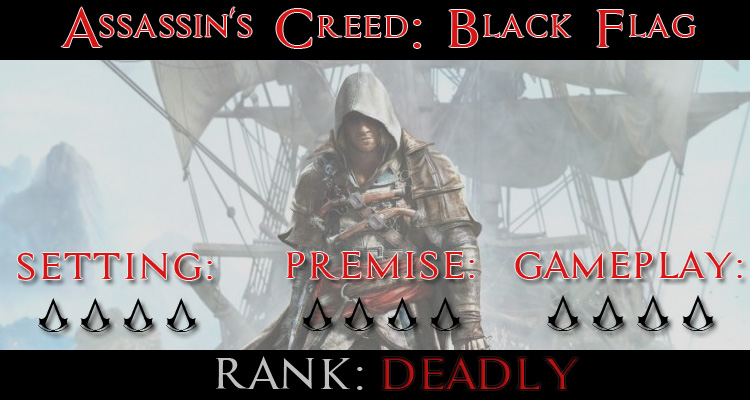 Nothing is cooler than a pirate assassin and Edward Kenway is the coolest combination of the two professions yet. Black Flag takes place as part of a fictional 18th-century Caribbean during the Golden Age of Piracy.
Though the game tells a fictional story involving the Assassins and Templars once more, the ideals shared by the pirates in-game looking to establish their own Republic of Pirates without the grasp of British or Spanish rule, are very much grounded in reality.
As Kenway, players were given freedom to sail across an open world map with a ship and crew, singing sea shanties and taking in the West Indies: Havana, Nassau, and Kingston. Naval combat, hunting, and typical third-person exploration was a part of the game, riffing on what Assassin's Creed had done in the past while keeping the doors open for something new.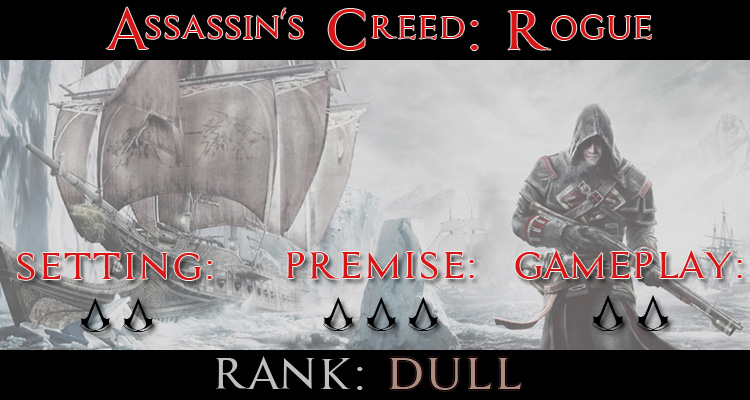 At its core, Assassin's Creed Rogue wasn't an awful game, it was just forgettable. Set between Assassin's Creed IV: Black Flag and Assassin's Creed III, it took place in the mid-18th century during the Seven Years' War.
Players see the series from the viewpoint of the enemy: a Templar named Shay Patrick Cormac, who had previously been an Assassin himself, an interesting twist on the format. On his way to hunt down former Brotherhood members who betrayed him, he becomes entangled in a murder plot that involves characters from Black Flag and the next entry, Unity.
Despite the intriguing approach with a revenge tale at its heart, Rogue was simply another run-of-the-mill entry. By the time players had completed Black Flag, they would have already enjoyed a superior sailing mechanic and a more interesting protagonist, leaving Rogue in the wake of its superior predecessor.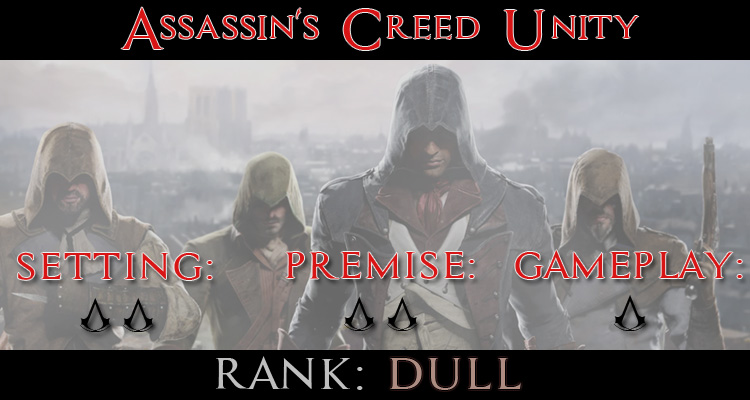 Assassin's Creed Unity could have been a great game if it weren't completely riddled with glitches. Set in Paris during the French Revolution, it had potential to be an exciting new riff on the previous games' open world narratives.
You're Arno, an 18th-century Templar defending his home fortress against an invading band of dastardly Assassins, though this time Arno Victor Dorian is a much less charismatic or personable character to get behind compared to past protagonists, making Unity one of the most forgettable deep dives into Assassin lore yet.
While it introduced a new combat mechanic with the Phantom Blade, which acted similarly to the Hidden Blade, it was ultimately more of the same, though co-op multiplayer offered a whiff of what could have been. However, when character models loaded with missing faces or skin textures and fell through the floor haphazardly, it was difficult to care enough to progress.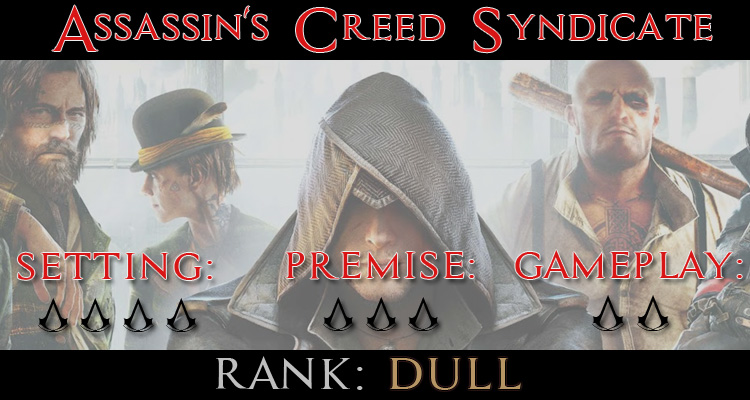 Assassin's Creed Syndicate was an interesting endeavor, as it offered male and female siblings Jacob and Evie Fry as playable protagonists before Assassin's Creed Odyssey.
Set in a fictional history involving Victorian era London, it followed the Fryes as they worked to clean the city streets of organized crime and push the Templars out of the city of London. Both Jacob and Evie were likable enough, but at its core, this was the same Assassin's Creed game players had seen several times over by the time Syndicate hit store shelves.
A wealth of linear quest and side missions integral to completing the main story, a rope launcher that allowed the sibling to rappel and make zip lines, and the first playable female protagonist of the main series couldn't shake some of the dullness that crept in. It could only string together so many of the same systems for so long before fizzling out with a lackluster ending.
Assassin's Creed Origins kicked it old school, taking players back to the Ptolemaic period in Ancient Egypt. That's 49-47 BCE, and the chronological beginning of the entirety of the Assassin's Creed franchise.
A Medjay (part of a nomadic people in Ancient Egypt) named Bayek took point for this entry, which attempts to retell a fictional account of how the conflict between the Brotherhood of Assassins and the Order of the Ancients (the Templars' precursor) began.
Though it didn't reinvent the Assassin's Creed wheel, it incorporated truly excellent historical figures within the story including Cleopatra and Julius Caesar. Plus, you got to take control of Bayek's eagle Senu, which was always fun.
Unfortunately, despite a robust system rife with RPG elements and intriguing challenges, the game was ultimately affected by poor performance thanks to bugs and glitches. It managed to entice and surprise, but at the expense of being playable. It's a shame, but even the greats stumble sometimes.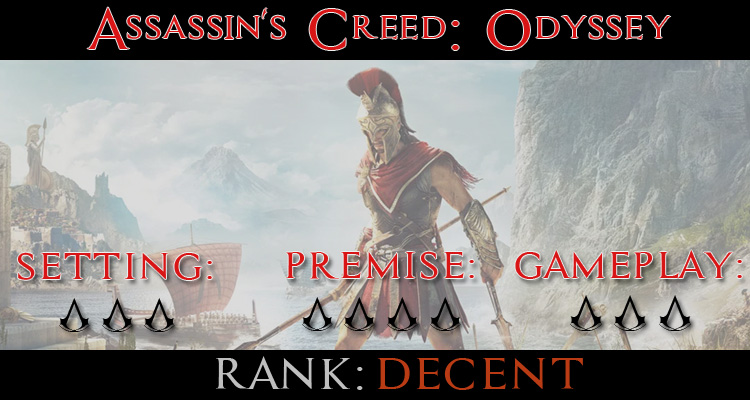 Though Assassin's Creed Origins took players back to Ancient Egypt, Assassin's Creed Odyssey was keen on telling the alternate history of the Peloponnesian War between Athens and Sparta between 431-422 BCE.
Reveling in its numerous role-playing elements–as well as the fact that it allowed players to choose between twins Alexios and Kassandra, male and female counterparts, as their protagonist–it's a dialogue-heavy entry that features branching quests with multiple endings. However, it's previously been criticized for some of the romantic relationships that can develop in-game, and the bizarre choices that came with them.
Both characters can become Greek mercenaries descended from the late Spartan king Leonidas I, and as such can fill out three different skill trees to further develop their abilities. It was certainly a stark departure from previous entries, but ultimately marred a bit by its confounding narrative choices.
Do you agree with our Assassin's Creed rankings? Here's our top down ranking, from best to worst, of the main line entries:
Assassin's Creed II
Assassin's Creed Brotherhood
Assassin's Creed IV: Black Flag
Assassin's Creed Odyssey
Assassin's Creed Origins
Assassin's Creed
Assassin's Creed Syndicate
Assassin's Creed Rogue
Assassin's Creed Revelations
Assassin's Creed III
Assassin's Creed Unity
Brittany Vincent has been covering video games and tech for over a decade for publications like G4, Popular Science, Playboy, Empire, Complex, IGN, GamesRadar, Polygon, Kotaku, Maxim, GameSpot, Variety, Rolling Stone, Yahoo, and more. She's also appeared as a speaker at video game conventions like PAX East and has coordinated social media for companies like CNET. When she's not writing or gaming, she's looking for the next great visual novel in the vein of Saya no Uta. Follow her on Twitter at @MolotovCupcake and check out her work at brittanyvincent.com