Orange is sus.
It's less than 24 hours from the spookiest night of the year and you're in dire need of a costume.
Before my school's socially distant Halloween event I had aspirations of showing up in a wicked PAC-MAN inspired costume to hang out with (and possibly avoid) my ghostly colleagues. My costume didn't pan out. At all.
With only a few hours to go I decided I could swing an Among Us inspired costume instead with items I had handy. All told, my costume required:
An appropriately coloured shirt (fluorescent orange, in my case)
A tacky hat (I went with a pumpkin mask I had from Halloween's past)
Gloves
An orange leaf bag
Fabric paint (for blood stains)
A weapon or three
Pipe cleaners
A Simon game
A backpack
A sharpie
A disposable face mask
Other items to complete your colour
As someone who always plays as an orange crewmate wearing a pumpkin hat my colour choice was easy. I took an old XL shirt I had from a past job and went to town with red fabric paint. I put two well placed handprints on it before smattering it with as much paint as I reasonably could in short order. If I'm going to be 'sus' I may as well go all out.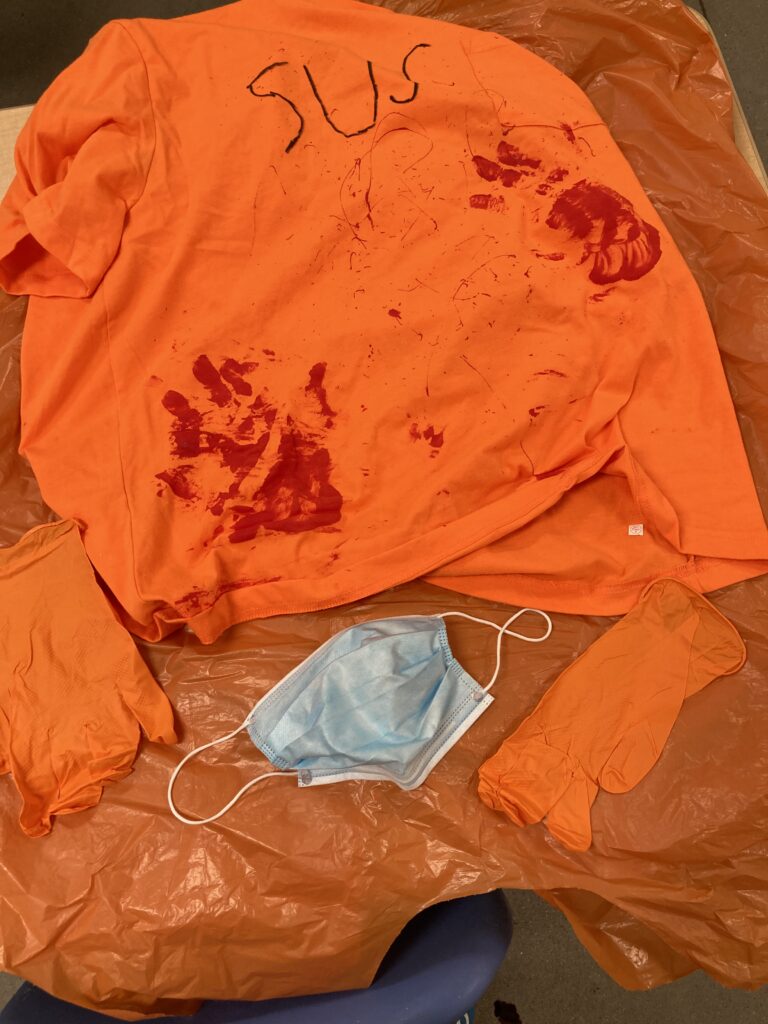 Fabric paint takes about four hours to dry but if you're in a rush throwing an undershirt on underneath will prevent it bleeding on to your skin; it washes out and off reasonably well, too.
From there, sticking with the orange theme, I cut up the top of an orange leaf bag, and wrapped it through my belt. Choosing another colour–red, blue, black, or white–I may have just fished out appropriate coloured pants. This worked.
I added some orange disposable gloves (again, with any other colour you can probably find a cheap pair) to make the look as complete as possible. This did mean I still had a lot of skin showing–something the crewmates don't show off, unless they're dead–so I grabbed some orange elastics off my desk to show an effort. I'm not going to judge you if you colour on yourself with markers.
From there, I wanted to leave no doubt that I know how to play the game, so I considered fake tasks. I grabbed four pipe cleaners–red, yellow, blue, and purple–to represent the fixing the wires task. Of course, purple isn't one of the wire colours, so an eagle eyed observer might know that I was faking it. You don't need to swap out the colours–as long as you have four you can laugh it off–but the subtlety helps.
I also grabbed a mini-version of the classic Simon game to represent one of the tasks involving the reactor. I was tempted to make an ID card (to swipe at admin) or scrounge up a bag of leaves that I could throw around, but I ran out of time.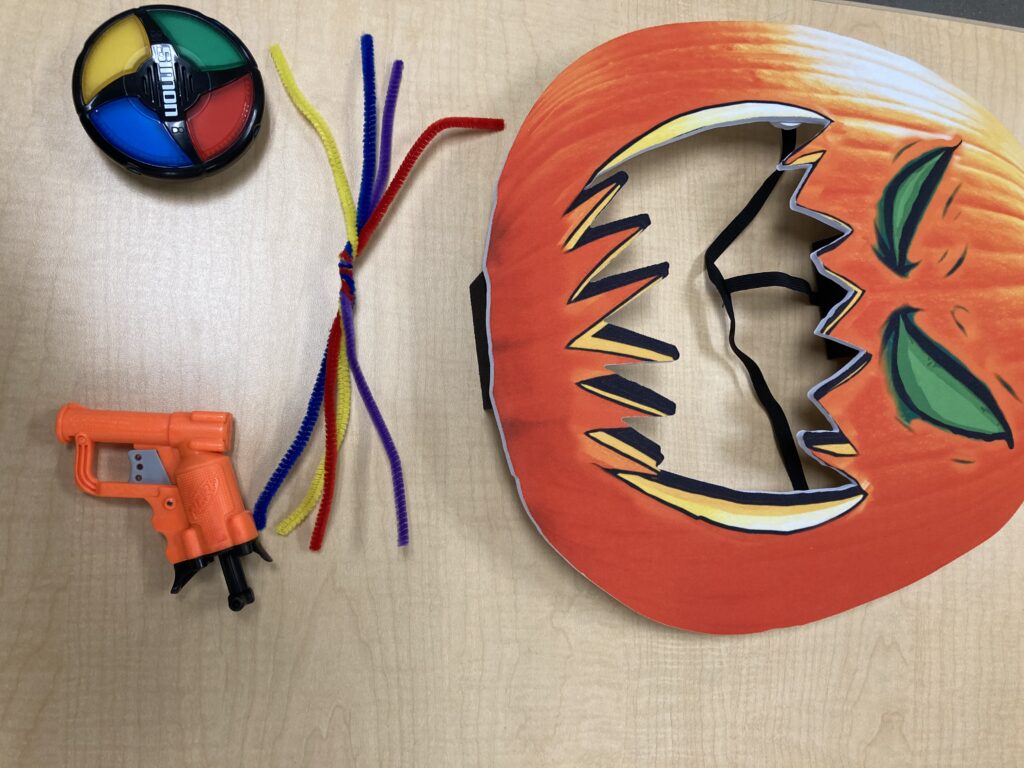 Because I always pair my orange outfit with a pumpkin hat this time of year, I chose to grab a pumpkin mask that I had on hand. There's no shortage of headwear or pets you can raid your house for: You might well have a Viking helmet, a set of reindeer antlers, a party crown, ski goggles, or chef hat lying around from a past costume. Rock it.
For weapons, I also raided my tickle trunk, and pulled out an old realistic looking knife prop. Because I work in a school, I decided to swap that out with a NERF gun, of which there are a variety available for around $5. The Jolt (pictured above) is an older model that is subtle (and surprisingly accurate) while I also have the small-ish FANG QS-4, which I might use if I was dressed as a yellow crewmate. Their other Microshots–the blue Stryfe, the green-and-brown Zombie Strike, and the grey-orange-white Rough Cut–might serve your different colours on the cheap.
I chose a standard blue face mask to represent the helmet but upped my game by adding a crewmate/Impostor doodle into the mix after seeing some videos on Snapchat. There's a bunch of tutorials out there but this is the best one I've run across:
While I'm by no means an artist I thought it came out reasonably well:
When putting the costume on I threw a backpack on to represent the tank each crewmate carries and put the t-shirt on over top of it. It's a vaguely unsettling hunchback look but it represents the costume well if you don't have a backpack in the colour you're going for. Again, my life would have been a thousand times easier had I chosen to go as black, but I'm always orange, so that's what I chose.
I grabbed my sharpie and wrote SUS in big letters across my shirt so no one would confuse me with a pumpkin.
Everyone that doesn't play the game confused me for a pumpkin. Time to call an emergency meeting…