Heavy hitter hates humanity.
Advisory: The game featured in this article relies on microtransactions that can exceed $10.
Over the past two weeks I've been having a ton of fun earning and playing with the newest 5-star character in Marvel Puzzle Quest: Apocalypse (Classic). This is the first time ever in Marvel Puzzle Quest's long history that two 5-star characters have released back-to-back, in part the result of coronavirus work changes. In the same announcement, the developers note that another Black Widow tie in character was slated to release, which we can only hope means a new version of Taskmaster.
Back to the first mutant, Apocalypse is an appropriately beefy villain, Apocalypse shores up the villains in the roster, a group that in story events is all too often represented by Doctor Octopus and The Hood, to say nothing of the legions of symbiotes, Maggia crooks, and Mindless Ones.
Apocalypse's story-based Boss Event–which has been run before–has four special tiles, each representing one of his horsemen of the apocalypse, on the board wreaking havoc on the players by destroying AP, creating attack tiles, and setting up instant-kill countdown tiles. This requires the support of your alliance and a very steep level curve: there's no better way to introduce a bulky, threatening character like this.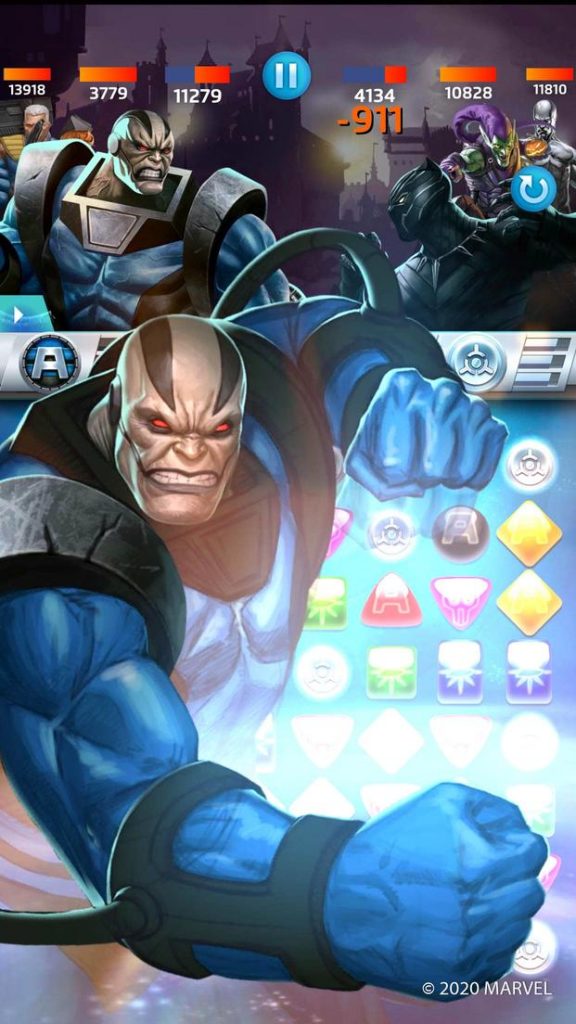 That combination of bulk and threat is the result of Apocalypse's powers, which set themselves up for their own combos, and allow him to create powerful protect tiles aplenty. His red power hits through enemy protect tiles multiple times, potentially able to wipe multiple characters, while his black power can alternatively unleash massive damage or heal, depending on the circumstances. Meanwhile, his yellow power sets up a repeater that creates protect tiles and buffs the team's offense. A natural complement exists both with Beta Ray Bill and Sabretooth, as well, meaning you won't need to rely on Apocalypse himself if you have those characters.
It's fitting that a character who's appeared in game for some time as a boss finally makes a debut, with a Marvel Puzzle Quest first back-to-back 5-star release no less, and it feels appropriately consequential.
The follow-up to Apocalypse is Marvel's Hellcat, a 4-star character using yellow/red/purple powers, is an acrobat with a magic cloak, retractable claws, and a grappling hooks. She's been around in some form since the 1940s and is the inspiration for the Trish Walker character on Netflix's Jessica Jones series.
Marvel Puzzle Quest continues to regularly add new characters, with additions such as Super Skrull, The Hulk (Immortal), Maria Hill, Havok, Karnak, Mister Sinister, Yelena Belova and Canadian character Northstar this year.