COVID-19 means a slate of delays for movies worldwide.
Advisory: The game featured in this article relies on microtransactions that can exceed $10.
It feels like an eternity since Black Widow's final theatrical trailer dropped, showcasing the larger cast and storyline that is central to the movie, but it was just days before much of North America went into a prolonged lockdown to battle the COVID-19 pandemic.
Movies have seen widespread delays both in their production and release as the world cloisters. Just as it was jarring to see a massive new collection of James Bond Blu-rays dropping to promote the latest in that spy thriller–now delayed until November 25–it's equally dizzying seeing promotions for a different spy movie now delayed until November.
Marvel Puzzle Quest's new character for this two-week window is Yelena Belova, a 5-star character utilizing purple, green, and red powers. In many ways she's a tribute to the game itself, emblematic of the game's earliest days, a revisiting of a character who has been stuck as a 1-star mook that is beat up on in the prologue to receive Hero Points.
Every detail in how the character is promoted and how that ties in with the feature film just feels off.
Official images are emblazoned with "INSPIRED BY…MARVEL BLACK WIDOW…ONLY IN THEATRES". It's not in theatres and won't be for several in game seasons.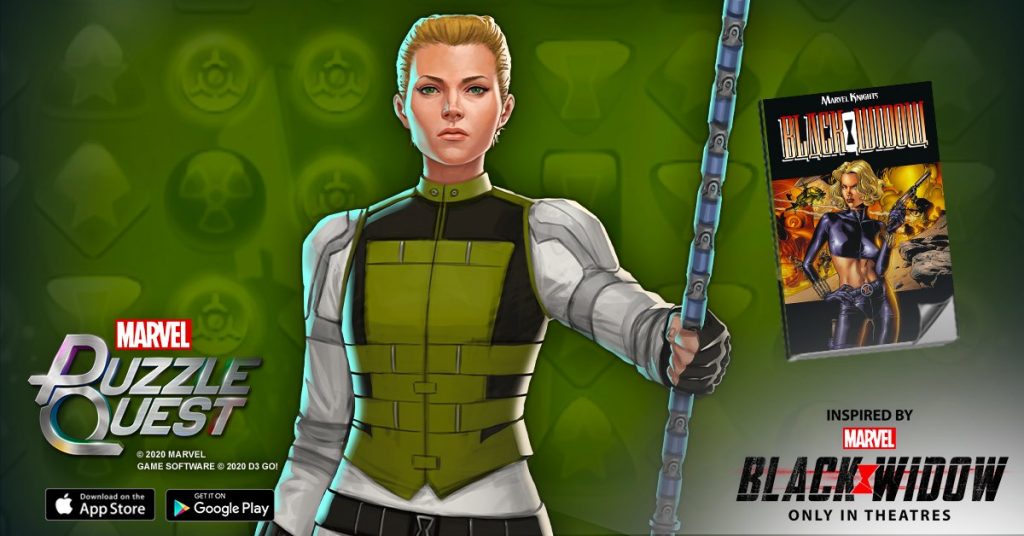 The new character announcement paints Yelena as a villain–a role she's certainly had in game–information that seems to go against the trailers Marvel itself has posted. Barring a major in-movie twist, it appears Yelena is not just an active ally of Natasha's, but the heir apparent to take over the mantle of Black Widow in the Marvel Cinematic Universe.
Then there's the return of the (admittedly popular) in-game event Movie Marathon, which drops a different movie inspired mission each day, often with strict character limitations. The event is always fun and it's neat seeing how the development team translates motion picture moments into puzzle battles but it just seems off to run this event now with no real reason to be thinking of the movies.
Make no mistake: the actual versus events promoting the various Black Widow incarnations were a blast–I was happy to win a Hollowpoint Kiss versus event using my ever-loved Black Widow (Grey Suit)–but it was paired with a Dr. Strange event for no apparent reason.
Yelena herself is an interesting character addition who focuses on manipulating the opponent's AP. Her purple ability, Spycraft, has been particularly fun to mess around with, as it sets off traps that transform AP from the enemy team's strongest colour into that of their weakest, all while dealing damage to boot.
It's clear from the development blog that a lot of love and thought went into designing this character: they even reveal that some of her design inspiration came at the same time we first saw Yelena busting out the big guns in the trailer above!
"Once the Black Widow trailer dropped that showed Yelena wielding a super-powered futuristic looking gun, we knew that we wanted to use that weapon right away […]
When designing Yelena, we knew that we wanted to create a character that felt similar to our other Black Widow characters, and still reminiscent of her 1-Star variant. The big difference between Yelena and Natasha is that Yelena is a bit rougher around the edges. The ability to move AP from the enemies strongest color to their weakest color was an opportunity to manipulate the enemy's AP in a significant way, but exposing herself in the process. Her low health is another aspect of this, as she is capable of bringing a lot of chaos to opponents, but a few good hits on her will take her out of the action."
This succeeded in removing the illusion of timeliness for in-game events. We all know these plans are made months and months in advance but rarely do we see them implemented in such a way that doesn't make the crossover promotion feel so inorganic. Whether it's because of a lack of development resources, forced licensing arrangements, or something else altogether, a character that has been shown this much care by the developers deserves the chance to receive the type of coordinated strategy she was set to receive.
It didn't happen.
Now all we can hope for is a cool Taskmaster debut come November.
Marvel Puzzle Quest continues to regularly add new characters, with additions such as Super Skrull, The Hulk (Immortal), Maria Hill, Havok, Karnak, Mister Sinister (another strange longtime omission), and Canadian character Northstar this year.