Another Wii U port.
The beleaguered Wii U continues to live on with Switch ports of its library, this time with a previously announced Super Mario 3D World port due out next month that packs in a new mode called Bowser's Fury.
Not a lot is known about the additions yet though two things are readily apparent: Bowser Jr. is along for the ride, helping Mario and friends, and Bowser is very, very angry.
A massive, goopy Bowser obliterates obstacles with his fiery breath as Mario flees in the trailer, all while a rip roaring rock opera blares in the background. Bowser Jr. is tagging along–perhaps as a helper character controlled by a second player ala the Luma in Super Mario Galaxy–and good ol Plessie takes Mario to the waters, a welcome return from the inspired stages of the main game.
Power-ups abound in 3D World and they seemingly return in the Switch port: the classic fire flower, of course, and other recent (as of 2013) additions like the propeller box and cannon box mix up levels. A cherry blossom allows Mario to clone himself while the Super Bell imbues the player character with the powers of a cat.
Those powers are frequently on display in Super Mario 3D World and they seem central to Mario's new conflict with a Bowser that's lost grip on his powers. Mario becomes massive when he touches a supersized Super Bell housed on a shrine and the ensuing battle fades to black.
Online multiplayer has also been added to the game.
"We hope players enjoy pouncing their way through two great Mario adventures in Super Mario 3D World + Bowser's Fury, with lots of feline fun to be had whether playing solo or with family and friends," said Nick Chavez, Nintendo of America's Senior Vice President of Sales and Marketing in a statement.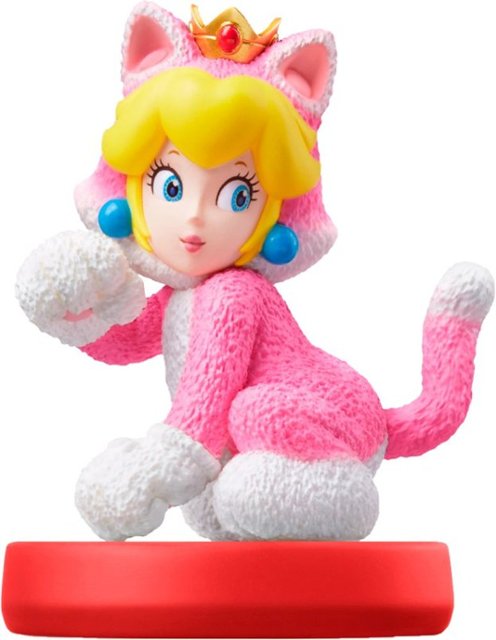 Corresponding with the game's February 12 launch will be two new Amiibo–Cat Mario and Cat Peach–while Bowser and Bowser Jr. Amiibo are re-issued. Nintendo says these Amiibo will use to unlock in-game power-ups.
A special edition Switch colour scheme celebrating Mario will also debut celebrating the plumber's red and blue duds. The colourway will include red joy-cons, blue Joy-Con straps and grip, and a themed carrying case. For the first time ever, the system itself will be a colour other than black, debuting in Mario red, along with its dock.
Mario's 35th anniversary will continue through this March and has already seen cross-promotions with Levi's, special editions of Jenga and Monopoly, and time-limited Switch releases of Super Mario Bros 35 and Super Mario 3D All Stars.