Sinister Six member doesn't like the cold.
Advisory: The game featured in this article has microtransactions that exceed $10.
After a year of graphical tweaks, Marvel Puzzle Quest hasn't slowed down its character releases, dropping new 4-star and 5-star characters every couple of weeks.
Many of 2021's additions have been somewhat iterative of existing characters including new versions of Colossus, Cyclops, Wanda Maximoff, and Beast. That lineup had some Marvel fans begging for the Scarlet Witch's signature line from House of M: "No more mutants".
Since, a bevy of new characters have hit, including Monica Rambeau's destructive board tactics and Knull's dark army overwhelming enemy health. They're great characters but neither feel as long overdue as the inclusion of The Lizard (Classic).
The character is one of Spider-Man's oldest foes having debuted in The Amazing Spider-Man #6 with villains like Doctor Octopus and Sandman being two of the only villains the webhead faced before The Lizard.
Since, both The Lizard and his alter ego Dr. Curt Connors have gone on to make regular appearances as part of Spidey's rogues gallery, with a prominent role in the Ultimate Spider-Man cartoon both as ally and villain, and as the villain of The Amazing Spider-Man starring Andrew Garfield. The Lizard also makes frequent appearances in Marvel related videogames.
It's strange, then, that one of Spidey's oldest foes has taken this long to make it into MPQ. So far, he feels like a natural 4-star inclusion with a straightforward playstyle that betrays deeper design and consideration, feeling like a blueprint for new mechanics in a way few other characters have felt this year.
Those characters that have felt that way are perhaps unintentionally fellow members of Spider-Man's villain roster: Scorpion, who can tear through a team with an abundance of purple AP, and Morbius, whose design punishes teams that rely on special tiles, both feel like needed additions.
The Lizard's whole shtick involves messing with blue and red tiles. Blue tiles represent the cold. Red are hot. And his powers directly increase when there are more red tiles on the board and a relative absence of blue.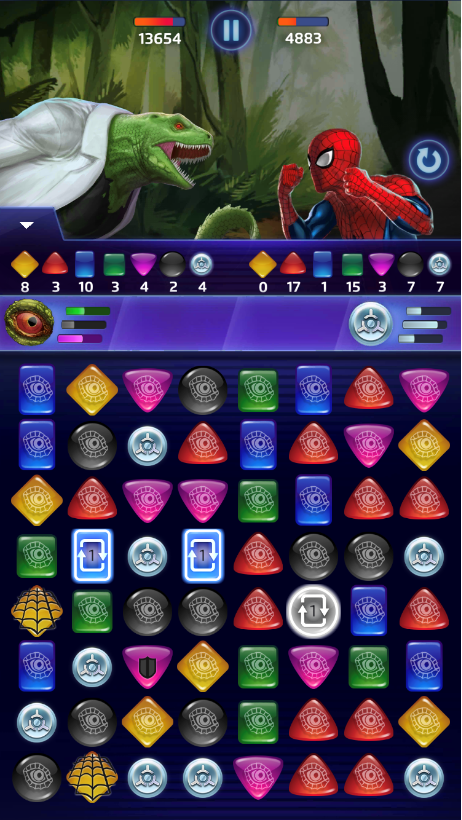 Thankfully The Lizard has means of converting blue tiles to red through his powerful R-Complex power that creates tiles which swap other tiles, changing any blue tiles they come across to red, potentially causing significant damage if left unattended by the other team.
As an added bonus each R-Complex tile saves The Lizard damage. This complements with his Tail Whip ability that allows ol Lizzie to play both offense and defense: If Connors hasn't taken significant damage the tail can be used to inflict damage and stun an enemy. If the good doctor takes a big hit, his tail rips off, and while it regenerates health, the offensive option is removed.
The Lizard's powers seem carefully crafted to the character's design across his nearly 50 years of history.
With The Sinister Six forming one of the most engaging of the rotating monthly boss battles, it feels inevitable that The Lizard will one day join the lineup, perhaps alongside MPQ newcomer but sometimes Sinister Six member Scorpion.
Lizard (Classic) covers will be awarded from the ongoing Infinite Pursuit event.