Zzzzzt.
Advisory: The game featured in this article has microtransactions that exceed $10.
A recent character addition to Marvel Puzzle Quest essentially confirms a recent theory that the developers are retooling the Sinister Six lineup and focusing more on Spider-Man's rogue gallery in 2021.
With 'Classic' renditions of both The Lizard and Scorpion joining the roster this year, to say nothing of sometimes baddie Morbius, Spidey's baddies have only been overshadowed by villainous takes on famous X-Men (including our favourite, Dark Beast). That may well be changing as the latest 5* release taking the form of Electro.
While Electro is one of the oldest villains to battle the webhead — debuting in Amazing Spider-Man #9 — it's not the classic version on offer this time. Instead, it's Francine Frye, a supervillain superfan who dies and is resurrected with Electro's powers after a kiss gone bad. Note to self – don't kiss supervillains.
In game, her powers unleash damage in spades, with powers in Green, Black, and Yellow AP, though controlling Red will be essential to successful play.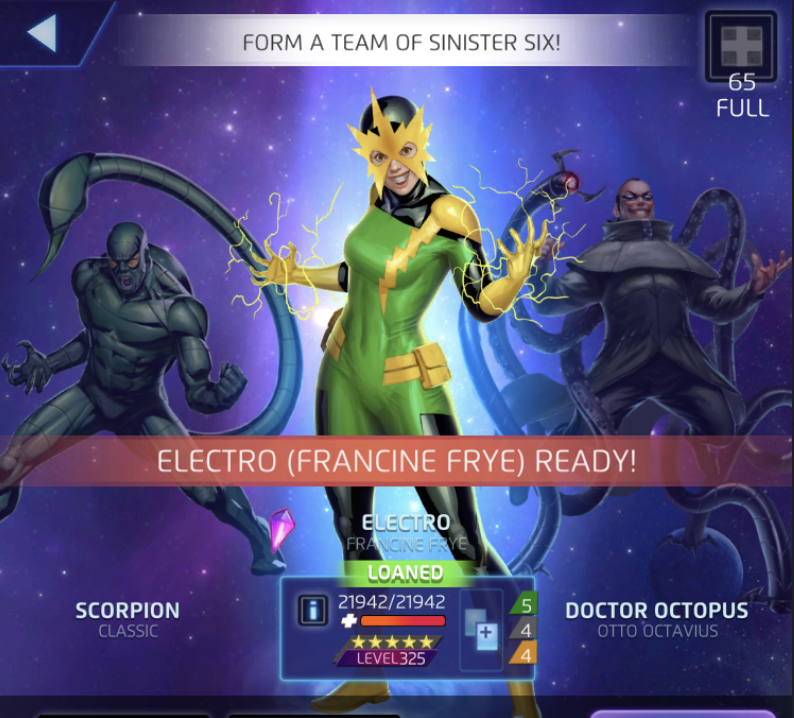 The Green power is dangerous – it makes three assorted Red Countdown tiles that deal damage and destroy all tiles above them when they expire. Her Yellow power creates a strike tile on the bottom of the board while it passively lowers team damage.
A true lover of supervillains, her Black power passively reduces damage for each other villain on the team, while at a cost of 8 AP it unleashes substantial damage, particularly if there are only a few Team-Up tiles on the board. The overall low cost of her abilities ensures you'll be firing them often.
It is, however, the potential for this Electro to join a new Sinister Six that most excites us. The present incarnation during the rotating monthly Boss Event feels tired: its strength, compared to other such events, is that you battle multiple powered-up foes. Its roster has ebbed and flowed over the years and having a boss event with newcomers like Electro is sure to keep the game fresh for years to come.