A good conversation might be in the cards.
The vast majority of card games use their mechanics to simulate combat. Your hand serves as your 2-dimensional army, or a suite of magic attacks, and placing them is treated as a means of one-upping and eventually defeating your opponent. Signs of the Sojourner manages something completely different, instead using the genre to tell an entirely non-violent story about the nature of conversations, one where cards are used as a means of forming relationships, exploring the world around you and ultimately carving your own place in the world.
Dyala Kattan-Wright from Echodog Games explains that in this game the deck is your character:
"Of course figuring out what that actually meant in terms of gameplay took a huge amount of iteration and prototyping", Kattan-Wright says. "We knew it would be a narrative game from the start though, so both the story and the mechanics developed alongside each other. From the very first discussions we identified themes of travel and identity that we wanted to explore with the mechanics"
The protagonist is depicted only as a silhouette throughout the game, shaped by your actions alongside the conversations and relationships you choose to build with others. Enhancing the themes of travel, exploration and identity, a narrative thread about your mother's passing– a woman both well-known and respected in the tight-knit community–sets up the mechanic of taking over her market store with the help of your brother, Elias.
This story cleverly progresses through branching narratives within the game. Each day you're presented with the world-map, connected by roadways, which expands as you play. You'll start in familiar locations: there's the arts community in Patchenko where your mother used to socialise often, the closest scenic village to your home where they delight in pickling contests, and more. It feels remiss to spoil, even slightly, these early locations, let alone some of the furthest reaches of the map where you'll find completely different decks to compete with. This is a world flailing in the face of robotised commerce, awash with concealed factions, political power plays and ancient geological threats.
There's no set path to this map, and though you need to factor in travel times, you can essentially go anywhere you like. You're therefore encouraged to replay Signs of the Sojourner multiple times to see everything it has to offer; some characters may appear in different locations, or you might meet people who didn't appear at all the first time around. So creative and diverse are these towns and their inhabitants that it demands additional playthroughs to find some of the more 'secretive endings' to the game.
Much of the intrigue with many of these endings, as well as when starting the game for the first time, is in finding out more about your mother whilst also figuring out your own path now she's no longer around. It's a classic Bildungsroman premise, but rather than packaging this story in a game full of physical adversities, Signs of Sojourner pits you against mental struggles instead, a feat accomplished through the card-based mechanics.
At the beginning of the game, you're provided with a deck full of cards with a triangle and a circle symbol. Dyala Kattan-Wright explains explains the symbolism by noting that building a diverse world was important to the process.
"Once we settled on the current symbol matching direction for the card game, we spent a good amount of time deciding how we wanted a small set of symbols to represent different personalities and world views, and then from there organized places and characters accordingly".
These symbols therefore become the major way in which characters differ from one another. On your first run, you'll likely bump into Salem, a kimchi salesman, whose cards introduce a creative and industrious response shown by a turquoise diamond. Without spoiling too many of the characters you'll find in-game, or their quirks, you'll eventually bump into people with a more direct, standoffish nature or those with limited cards but the ability to match a number of different symbols at any one time. The further you travel, the more cards, characters and locations you'll uncover.
Once you initiate a conversation, you have to try and find a way to match your own symbols with the cards these characters put down.
"Part of the idea from the start was to explore how we could turn conversations into gameplay that wasn't just selecting dialogue from a list of options. Early on a lot of our prototypes leaned much more towards CCGs or more strategic deckbuilders like Slay the Spire. We ran into a few problems with that direction though–players had a hard time keeping track of/caring about both a complex card game and a complex narrative, and tended to just focus on one or the other."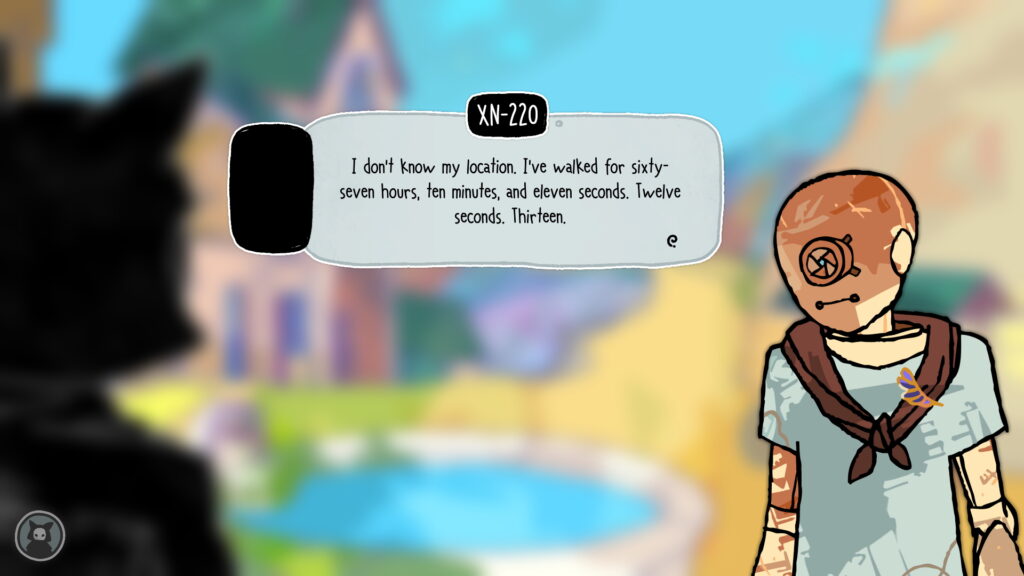 The team had difficulty balancing the combat system with their non-violent intentions.
"We wanted to find a solution that could accommodate non-antagonistic conversations, and those more strategy driven iterations never quite escaped the feeling of needing to defeat an opponent or build the most powerful deck. Even with the current game, I don't think we quite manage to overcome that feeling for a lot of players."
The resulting playstyle found in Signs of the Sojourner completely flips regular card game tropes on their head. Instead of trying to conquer the other player by countering their moves, you're trying to work together to better understand each other, and in turn the location you're in. It becomes a collaborative process, rather than an altercation. Due to the matching symbols concept, you have to react appropriately to the last card played, whilst also thinking about what cards your partner can play next. The decision-making is less oppositional by nature, as you're actively encouraged to think about how to help the other person's future plays as well as your own. The gameplay becomes one of balancing this compromise with control.
It works so well because the card system grows more complex over time; as you better grasp these mechanics you'll come to learn some more advanced techniques, thinking three or four cards ahead like a chess game. You'll also be given access to cards with special properties that reflect real-life speech patterns, such as accommodating for the other person by mimicking their last card played, or chattering yourself to play an additional one.
Similarly, it succeeds in evoking the social anxiety of meeting a new person, in that you don't know what their attitude might be, and there's no way of finding out until you start laying your cards on the table. As you talk to characters several times, you'll come to learn their patterns, the ways they like to converse, and how you can make the most of every exchange with them.
Another aspect of this collaborative dynamic links the game's replayable nature and its card mechanics together, and it concerns the game's approach to losing. Because of the way the deck-building works in-game, you won't be able to successfully talk to everyone you meet. You can build a deck full of circles and triangles, or squares and diamonds, but it's impossible to have the right card in your hand for every situation. This means there are times when you'll fail to speak to someone; they'll grow angry with your replies, or just walk away.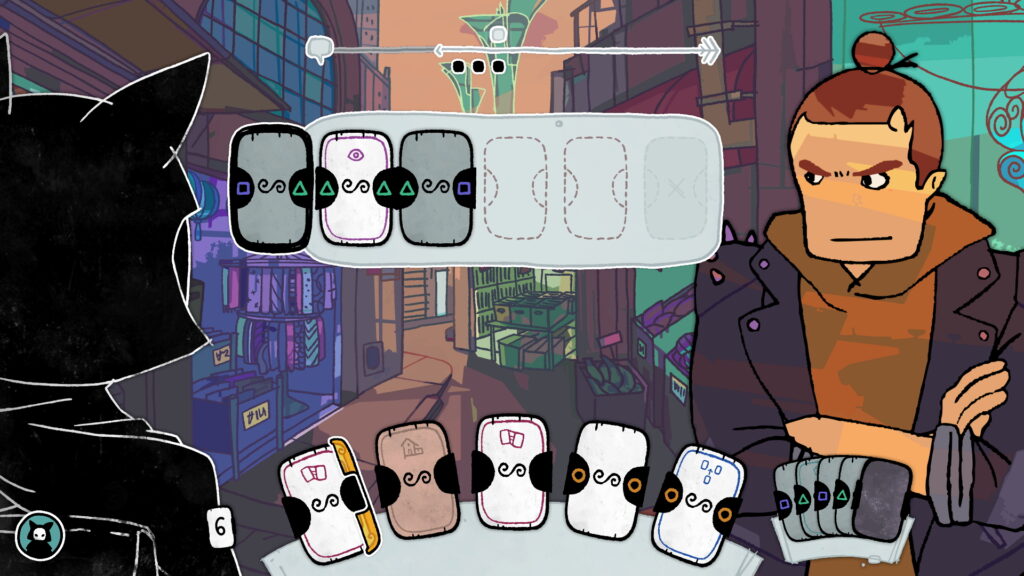 This isn't treated as an abject failure, more a fact of life; sometimes, you're going to meet people you feel you have nothing in common with. The game treats these losses not as if they're a defeat in battle, but a bump in the road, and encourages you to replay with a new deck to speak to those you couldn't previously. When talking about the game's endings and its aversion for right and wrong methods of play, Dyala Kattan-Wright notes:
"I want to avoid spoilers, but there are a few "secret endings" which I really enjoy since they break away from the mold of some of the more straightforward endings. We did want to avoid having "good" vs "bad" endings–even if things don't turn out the way you hope, we aimed to still make it feel like a compelling end to your story, as well as learning new things about the world and your character's mother each playthrough."
No matter the result of the interaction, you'll receive a new card based on the character's deck, a subtle way of showing that regardless of whether you like a person or get on with them, you'll learn something from them.
It's in this way, as well as with the multiple endings, that Signs of the Sojourner makes every run and every conversation feel worthwhile. It's particularly surreal to return home to your market after a long day's travelling to find that your new deck, full of different symbols, means you struggle to connect with your brother who's been tasked with running the shop while you're away. He'll keep the same deck of cards he had when you left, but you'll have gathered new symbols from far-away lands, and trying in vain to match up your new squares with his familiar circles exposes the intricacies of the game's mechanics like little else.
Signs of the Sojourner's greatest success is in teaching the nuance of conversations, how they differ contextually and culturally, and how vital it is to attempt to communicate with everyone, no matter the struggle in doing so. These characters and their world will stay with you long after you park your caravan, but so too will what it has to say about conversation. That, however frightening, it's worthwhile to embrace the unknown spatially and culturally, that everyone has something to offer that can enrich your life, and that perhaps the key to understanding the world, as much as any of us can, lies in the people around us.
Its unique approach to failure and replayability echoes, somewhat, Borges' Garden of Forking Paths, which famously inspired Bioshock Infinite's many-lighthoused conclusion, but the message portrayed by Signs of the Sojourner is a far more positive one. The journey you undertake each time is yours to own; it shapes you based on your curiosities and the route you choose to take. It shows that having many possibilities isn't a frightening idea, but, rather, a freeing one.

IMAGES: Echodog Games
Signs of the Sojourner was included in Itch.io's Bundle for Racial Justice and Equality and is also available on Steam and Itch.io for PC and Mac, with plans to release on the Nintendo Switch later this year.
Samuel Kendall is a writer and poet currently living in Belgrade.