The spice must always flow.
Hollywood's fascination with the Dune series goes back nearly as far as the original book's release. Its complex and sandy world has pulled in readers since it was first published in 1965. Dune caused a stir of excitement among film fans last week when fans received a new trailer for the film, complete with gritty colors and Pink Floyd music. This isn't the first time Dune has arrived in theatres. In the '80s, David Lynch attempted to adapt the novel into an adventure film featuring the legendary Sting; in 2000, the SciFi channel brought the first three books to life through a miniseries starring William Hurt and Alec Newman; there was also Alejandro Jodorowsky's doomed attempt to adapt the series into something unique and macabre. Villeneuve's attempt will arrive in theatres soon enough but it's worth reflecting on the series' influence on all things geek now before its introduction to a new generation of potential fans.
Diving into Arrakis
For those unfamiliar with Dune, it tells the story of Paul Atreides, a young man pulled into intergalactic politics who also happens to be destined to save all humanity. Paul exists in an intergalactic empire with feudal houses competing for power: In this universe humans have space travel, but doing so requires the pilots to consume melange, a drug that offers visions of the future. The only place that this drug can be created is on Arrakis, or Dune, some mockingly call it and its sandy nature. Arrakis is a barren wasteland where the nomad-esque Fremen and the gargantuan sandworms infest its layers, making everyday life extremely difficult for even the average person to survive.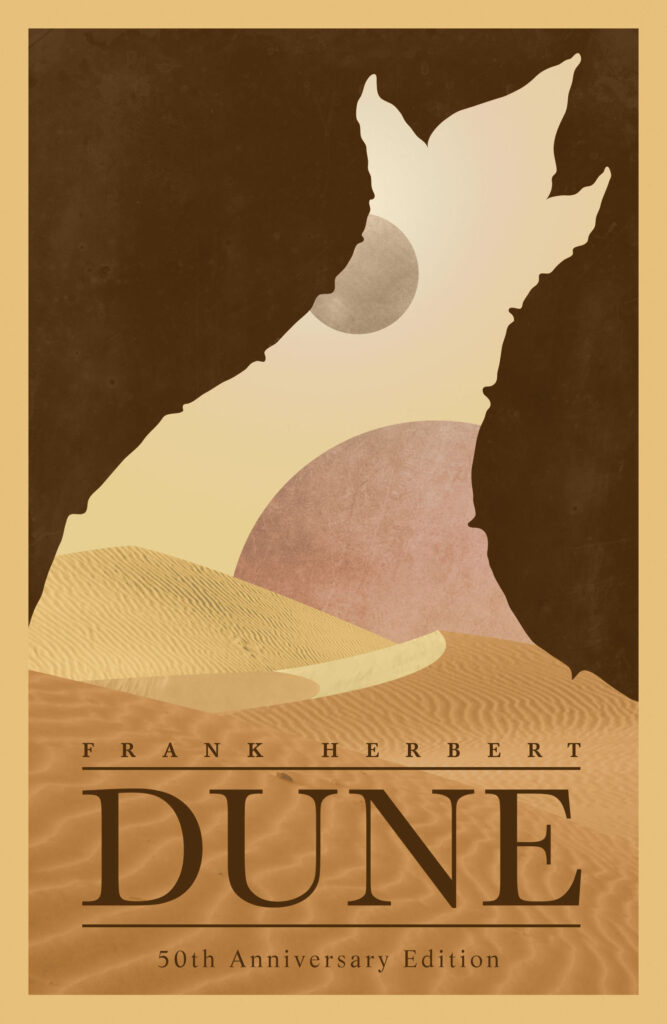 In the early part of the book, Paul's family is given governorship over Arrakis as a political move by the emperor of the universe. This move is not necessarily a reward, but a set up for the emperor to isolate the Atreides family by a rival clan in hopes of organizing a coup and killing them all. As soon as the coup begins, Paul is pushed into the desert with his mother, desperate to survive. Paul joins the Fremen, weaponizes the planet toward his own purposes, and eventually renamed by the Fremen as 'Muad'Dib', an alias that Paul's visions (through exposure to melange) reveals to be of great importance to the Fremen, setting the stage for him to become their messianic leader.
A Sandy Dive
When Dune arrived on the scene, it was received as a significant change in the market. Many science fiction stories were serial in nature and fixated on technology. Isaac Asimov, for example, built his career on Foundation, a series about scientists figuring out when society would end through a series of mathematical predictions. While Asimov had a clear creative concept to explore, his stories were more interested in technology's implications, rather than the people using them. Dune's author, Frank Herbert, intentionally built a universe where the technology was not the focus, but rather the people and cultures populating it. He did so through some curious innovations.
For example, while there are still ships that travel between worlds, those ships rely on 'Guild Navigators,' prescient humans who exist to fly these ships and consume melange. There are the mentats, a sort of human-computer created to keep society going; there's also the Bene Gesserit, a group of melange users who manipulate spirituality and religion's views toward their goals. Then there's Alia, Paul's sister, who also somehow has adult-level knowledge of the Bene Gesserit's ancestors.
That's all in the first book.
Herbert's imagination expands within the six volumes and adds various characters and concepts that are, well, weird.
What gives this world building depth is its use of historical texts. At the start of every chapter is a fragment of historical books from the story's future. Each one alludes to a fictional text written about what had happened to Paul and the heroes of the story, often referring to a future 'jihad' and the inevitable conquest that would follow the first book's end.
We're not supposed to focus on that jihad but on the people driving these decisions. Herbert encourages us to watch Paul adapt to the demands of life on Arrakis as well as the concepts that the nobility, the Bene Gesserit, and the Fremen press upon him. These understandings have far reaching implications for the world of Arrakis.
Just as Tolkien spent pages describing meals and parties in his epics, Herbert spent pages on how the sandworms explore the land, enriching the world and the characters that inhabit it.
This density of the universe (and by extension, its weirdness) captured millions of fans' attention, to the point that Dune was voted the 'Most Influential Sci-Fi book' by WIRED readers in 2008. It's hard to not find Dune's influence in almost every nerdy interest fans might have. Game of Thrones draws heavily from Dune's feudal-esque politics, while Warhammer 40K is clearly inspired by the notion of a Messianic emperor who maintained exclusive control on vessel travel between planets. Tremors appears to have copied the concept of 'sandworms' for its Graboid monsters. Even Star Wars supposedly copied several elements from Herbert's work.
And Dune's legacy has been felt more directly than just influence. Several games about Dune have been made between the 1990s and early 2000s, but it was Dune II that established the key elements used by real-time strategy games. From a top-down display to resource gathering to the unique design of units for each faction, the 1992 game is the first to implement many of the key pillars that would define the RTS genre for the next 30 years. Many gaming fans argue that we would not have successes like Starcraft or Command & Conquer without Dune II. The Dune tabletop game was also notorious for its creative reconstruction of wargaming elements.
If you're looking for a glimpse into the foundations of where our modern sense of science fiction and world-building originates, Dune is worth a look. The series provides a dense yet provocative read with several elements that offer reasons to return to it time and time again. The first book unquestionably holds up after all these years: There exists a multitude of sequels attempting to expand the series, often to mixed results, so consider them at your own discretion.
One thing's for certain: the upcoming film won't be the last time Herbert's sandworms send reverberations throughout geek culture.
Christopher Hutton is a freelance journalist from Indiana. He is currently studying for his Master's Degree in sociology at Ball State University. When not digging for melange, he can be found tweeting at @chris_journo.