693 bricks stacked on one piece.
A plucky pre-teen from Salmon Arm, B.C. is among the latest Guinness World Record holders after stacking a remarkable 693 bricks on a solitary, vertically oriented piece.
Auldin Maxwell's structure reportedly took 13 sets of Jenga and a little more than an hour to build, according to Global News, outbuilding the former record-holder by nearly 200 bricks. The record book suggests that his record was kneecapped by a lack of bricks: Auldin used every brick at his disposal in building the record breaker.
"I created different types of patterns on the ground I could make, and then I tested it out and I will see which ones work and which ones can hold the most on stuff," Auldin told the CBC in an interview.
Those patterns can be seen on full display as Auldin's structure flares out across nine layers before reaching its widest point. It's a somewhat different approach than the previous record holder's (485 pieces) which fan out in a series of crosses with a hollow centre.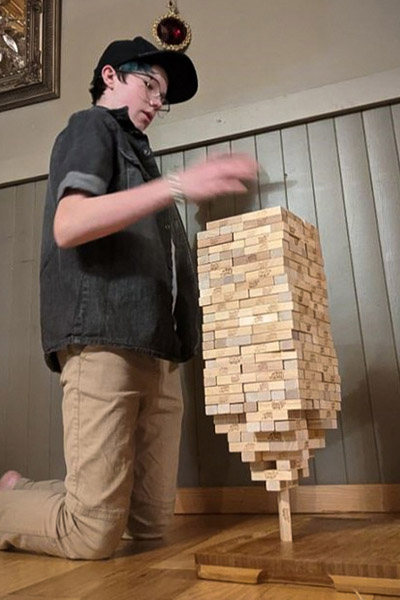 The record for building a Jenga tower on top of a vertical piece requires patience, build knowledge, and a skilled hand. It isn't the only Jenga-related record up for grabs, however, with other records including most Jenga pieces removed from a structure with a whip in one minute (seven), largest version of Jenga (each brick weighing 272 kg), and fastest time to add three layers by an individual (8.5 seconds).