Get INKT.
Dirt browns and drab greys comprise the colourways of games being advertised as grand, nuanced, and "realistic". That a game has to look, and feel, like a serious gritty action film to provide social commentary on themes of authoritarianism, dictatorships, ethnic cleansing, disruptions to our environment, or the end of leisure is a misconception, one countered by Blue Tongue Entertainment's De Blob, like Lois Lowry's The Giver novel before it, an easy to access colourful children's painting platformer or a tale of authoritative outside forces executing bleak hegemony onto a vibrant state and its innocent citizens.
I've wanted to play De Blob for more than a decade but even I was surprised to find the game starts candidly with Nazi authortarian imagery that instantly strikes a visual chord.
Placing the player as our eponymous colour changing hero Blob in the role of aiding underground freedom fighters against the INKT Corporation's Inkies–and their leader Comrade Black–whose end-goal is to cleanse all expressions of colour from lush greens, golden yellows, and blazing reds. In doing so, the antagonists reduce the world of Raydia to conform toward a more literal dismal grey monotony rather than the diversity of colours thoroughly present in the Raydian's culture.
Comrade Black's belief in his moral superiority justifies his hatred towards Raydia: Coming from a foreign planet, he views Raydia as too cartoonish, colourful, and bright for his Inky squadron. There are too many colours rather than the few hues Black's homeplanet is cloaked under. Red, blue, yellow, orange, green, and purple? Not the way Comrade Black wants it. He despises it all. Even the swirling mocha browns irritate.
Grey, white, and black are his style.
Rather than leaving the planet as is, he begins implementing drastic measures to change the diverse vibrant dyes to match his subdued vision while apprehending those not conforming to his way of life.
The INKT Corporation's excessive means terraform the planet. Polluting the fresh waters, sea, and aquatic plant life with black ink sludge, huge pitch black pipes pump diseased ink into rivers, fountains, and across the waters running through the city locales. The Raydians cannot play with each other without getting trapped in the ink, their natural enjoyment of public spaces impeded, their joy removed.
INKT employs an armed militia while using police vehicles to throw anybody into jail that doesn't adhere to their monotonous colour codes. Propaganda is deployed to instill fear into non-compliant residents. Raydians are snatched from their homes, their bodies placed in ink-producing egg shaped suits, transforming them to INKT controlled Graydians.
They are slaves.
Raydians come in all sorts of colour, sizes, and shapes; the Graydians, in stark contrast, are all the same exact design and size. Trapped inside these suits, the Raydians struggle to walk , leading a tortured existence where they are squeezed out by the Inky to produce pure ink substances.
Oppress
De Blob presents diversity through differences in shapes, sizes, colours and more as essential to living on Raydia, engaging me in my quest to stop Comrade Black with the help of other rebels. It's a tale that isn't too far removed from the classic novel The Giver.
In "The Philosophical and Ethical Significance of Color in Lowis Lowry's The Giver", Kyoung-Min Han and Yonghwa Lee write, "[In Lowry's] contemplation on the pedagogical implications and value of The Giver, Susan G. Lea argues that the community's emphasis on Sameness that leads to colorblindness can serve in the classroom as an opportunity to explore the problems with a race-neutral perspective, which fails to understand the institutional and systematic dimensions of racism'."
Though De Blob has aliens from another planet invading to exterminate the Raydian cultures–a theme perhaps more akin to those of colonization, not unlike the cultural genocide evident in Canada's interactions through history with Indigenous groups–Kyoung-Min Han and Yonghwa Lee continue, "instead of understanding Lowry's treatment of color in terms of racial issues, Don Latham discusses people's colorblindness as a symbol of their lack of autonomy and individuality, which is attributable to the community's overprotection of its members that has created "a society of perpetual children'."
Latham asserts, "[The Giver's community] 'does not value discrete individuals but instead prefers to function as a single, amorphous entity'."
Authoritarianism works best when all vestiges of individual identity are destroyed.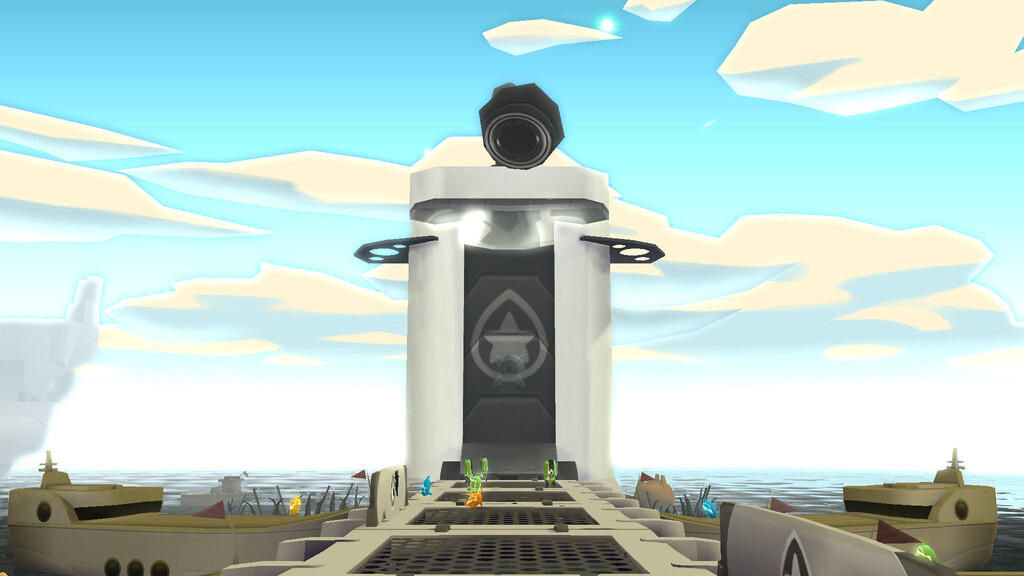 Comrade Black aims to have citizens become the exact same, squashing any sense of self and outer individuality with the most extreme dedication in jeopardizing the lives of innocents. Placing their bodies in suits, disrupting local sights, sending them to jails, the escaped Raydians can only cower in fear, hide, or take up arms against this authoritarian regime. This is assimilation of mind and body.
As Blob, though, you possess the power of being able to change your outer colours using it to saturate almost anything in the environment you see fit.
Resist
Trees, buildings, vehicles, billboards, rocks, and grass can all be painted. Throughout the levels there are paint robots, which are filled to the brim with the colours you need to break out the anguished Graydians, restoring them to the once beaming Raydians.
The player needs to accomplish side quests ranging from painting buildings specific colours, fighting groups of dangerous militia, and terraforming the appropriately named propaganda towers back into the sports, music, and arts vistas they once were. In turn–the more you paint the environment by using the paint from the robots and mixing colours around–you open more security gates to progress through each area, allowing you to help other freedom fighters take back from the INKT Corporation.
It is resistance not unlike that of the classical liberals lashing out against oppressive collectives such as the institution of the Catholic Church, the seignorial system, or against rigid oligarchies.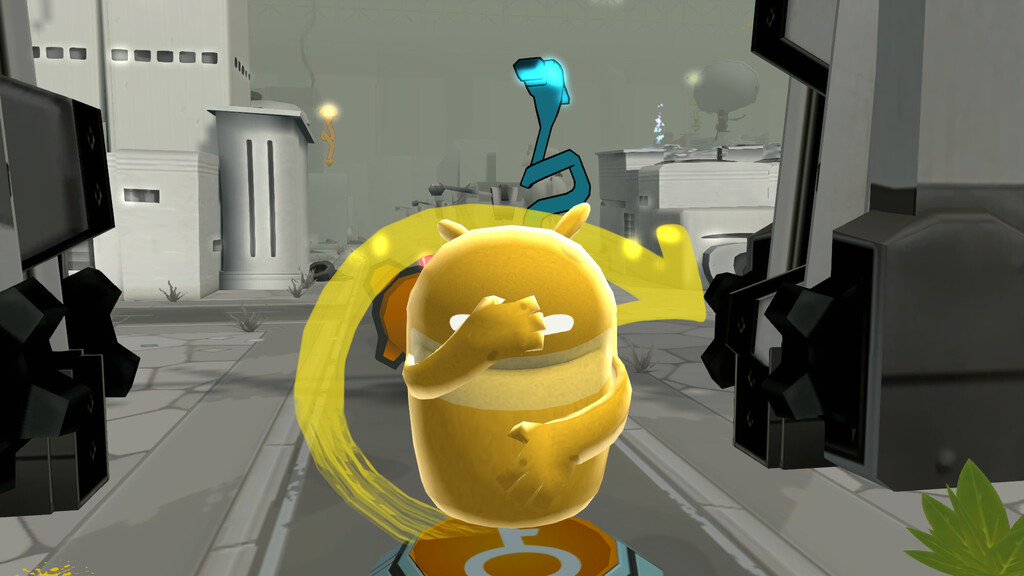 Each thing you paint in the environment, no matter how minor, including garbage cans or trash bags, and even grass growing between the cracks in the sidewalks, swirls together to create a glorious array of glorious rainbow colours. I found myself taking time to admire the beautiful world I helped recreate and recover, and in doing so, restore hope to the Raydians after the invasion of the Inky.
There's a good/evil morality aspect (with admittedly little beyond that) but sometimes a game can be direct through its symbolic usage of literal colour to showcase themes of authoritarianism, sameness, genocide of cultures, and the ways in which a group use elements of authoritarianism to control the minds through an oppressive force.
Comrade Black stands against individualism and the very expression of Raydian culture.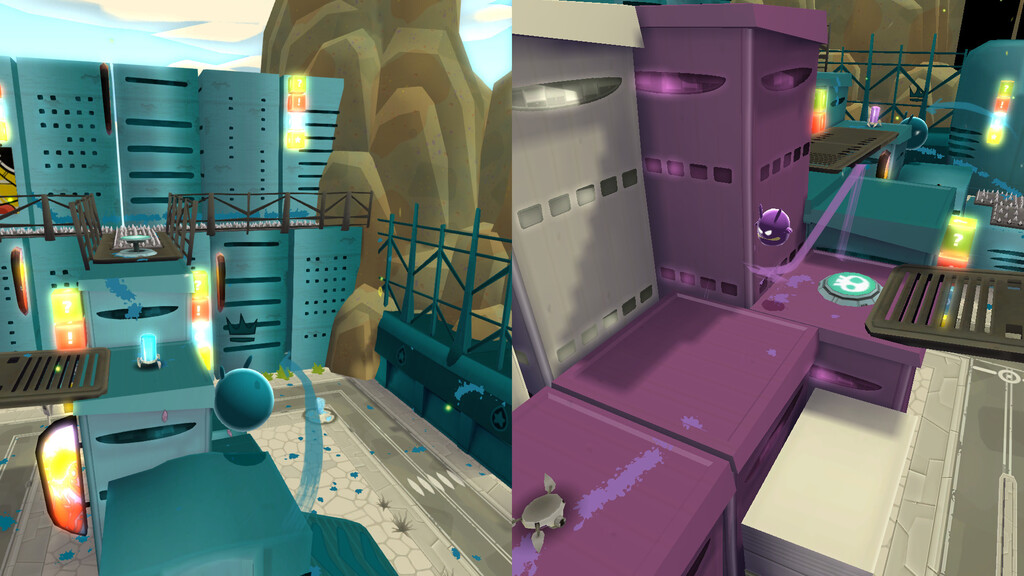 John Duckitt links authoritarianism and group conformity as a direct result of obedience. In his view, from a political psychology lens, group norms are central to understanding this type of authoritarian rule. He asks questions like:
how many behaviours and beliefs should be regulated?
how strictly should these norms be enforced?
how severe should the punishments for nonconformity be?
Black's answers are: all of them, highly enforced, and with severe prejudice.
His regime stands completely opposed to individual rights and freedoms and the creation of a unique identity. Black has tried all of this, and in the end, he fails to fully implement his agenda, the rebels disrupting his plans upon seeing the wide scale injustice, freeing not just one another, but their own individuality.
Veerender Jubbal is a freelance writer/journalist. Games critic. Anti-racism/xenophobia/fascism consultant. Made #StopGamerGate2014. Follow him @Veeren_Jubbal on Twitter. paypal.me/VeerenderJubbal
De Blob is available on most digital storefronts including the Switch eShop and Steam.
IMAGES: Blue Tongue Entertainment, Bitworks, THQ Nordic