Cutesy farming sim.
Life is full of loops and we're not talking about the rollercoaster variety. These loops are common in the field of biology: our bodies try to maintain homeostasis–a stable internal state, not too hot or cold for instance–through an incredible number of these loops. On a larger level, ecosystems do the same thing, and this can be seen in the classic example of rabbits and wolves–any predator or prey, really–where the population of one is inextricably tied to the other.
While it's not quite a loop per se, it is reflective of a cycle found all over the animal kingdom, in which a rising population of prey leads to a rising population of predators. In turn, that larger predator base consumes the prey, leading their numbers to decline, which leads to your wolves, lynx, and other predators seeing a similar dip. As numbers rise or fall we can predict the overall outcome for the other group much of the time.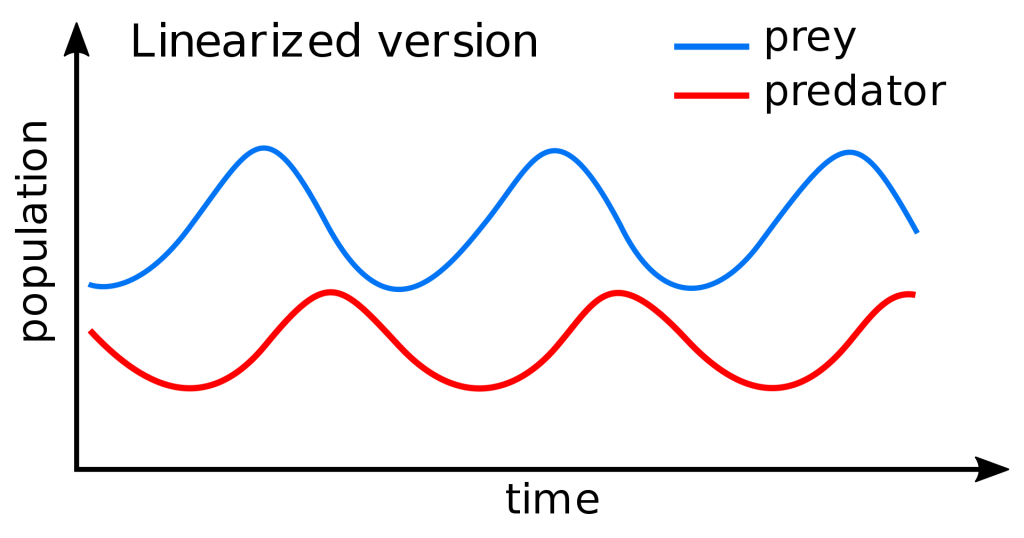 What does this have to do with Gooberries? In the broadest strokes, Gooberries is a sandbox farming sim. Like others in the genre, your goal is to plant, water, and harvest your way to self-fulfillment, though instead of some established crop, you harvest the titular Gooberries.
Charming Sim
Don't let the name fool you, though: Of course a Strooberry is a strawberry substitute and a Snarple is an apple stand-in. It merely exists to serve the aesthetic of the game, embracing a cutesy and whimsical motif, while draping your default biome in browns that beg to be turned colourful through your terraforming. In a way, it reminds one, in principle, of Willy Wonka's fanciful fruit-tasting wallpapers, or the design of the doughnut fruit from Neopets' Hasee Bounce.
Cutesy sound effects and an ambient background track keep the casual vibes rolling.
A day/night cycle–a loop if ever we've seen one–acts as your "time limit" for the day, which can be adjusted to be as slow or quick as you'd like. We turned the speed all the way up to turbocharge our gem and coin harvesting.
These currencies are used to unlock new equipment, called "Things", such as a Charging Station (which is required to power other equipment like an Automatic Waterer) or even different Gooberries. While the coins are quite easy to rack up–you get them by selling Gooberries you pick– gems take a bit more work as they're unlocked by defeating Goobers. 
In a confusing twist, Goobers are blob-like creatures that hunger for your hard-cultivated Gooberries, serving as pests on one hand and a reward on the other. Even after playing the game we're not sure how to describe their duality, so we'll let the game's description do the talking for us:
"Discover the creatures that inhabit your universe. Are they loveable friends or pesky Goobers that can't stop munching on your plants? Collect absolutely every variety and keep them as lively, little pets. Or feed your Goobers so many berries they can't help but burst into a shiny gem that will help you progress through the game. The choice is all yours."

Gooberries description on Steam
Popping Goobers (ew) gets you gems and if they're left unattended they will eat your crops, watered or not. It's a minor threat–and minor annoyance–as rarely as it happens.
It's possible to manage multiple loosely customizable terrariums–adding more inside each other like nesting dolls–but it's all so mundane. The loop is its own self-fulfilling prophecy.
Negative feedback loop
Thinking back to the rabbit/wolf analogy, when running simulations of their population density, it's possible (and often likely, if not fine-tuned) to create a scenario in which the wolves ultimately die off. If that's allowed to happen, the result is a rabbit population left to find homeostasis on its own — a momentous population boom followed by a precipitous drop in population, ad nauseum — completely unbalanced by external forces save their own food supply. The predator-prey relationship is one of balance but where that balance is lost the results are catastrophic.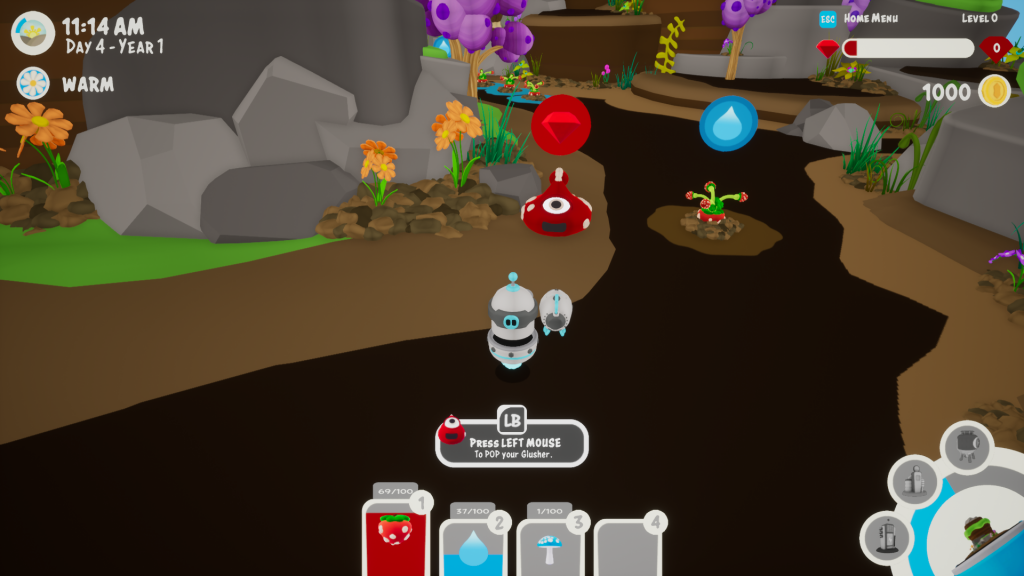 Conservationists know that balance is the key to sustainability for both. Gooberries is what happens when you allow the wolves to die off. Automation is so central to its core purpose that soon after there's nothing left to do. Each machine you purchase or unlock furthers the automated nature of the game. One machine waters the plants, another houses Goobers, and yet another converts berries and eggs (which Goobers lay at random) to gems, allowing you to farm currency.
You are as redundant as a cashier at a Whole Foods.
Like the wolves overeating and in turn destroying their food supply, the cruel irony is that it is you who creates the redundancy, excising yourself from the game, in the process removing any motivation to interact with the colourful world. There is no challenge left to overcome. No difficulty to scale. No rewards worth chasing past the first hour or two of the game. Balance isn't central to the game's design; only redundancy remains.
The wolves are dead.
So, too, is any long standing reason to play Gooberries.
Gooberries is currently available on Steam for $9.99. This review is based on a key provided by the creator.