Invasive species threatens agriculture industry.
A campaign initially launched in the Treasure State is being borrowed north of the border as Alberta looks to get its feral hog problem under control.
The boars devastate local ecosystems as they ravage the land in search of food.
"They are ecological zombies. They eat everything. They eat deer fawn. They uproot endangered salamanders. They eat ground-nesting birds and their eggs. They really eat anything," Shari Rodriguez, a Clemson University professor said in a 2016 report, as covered by The State.
While that report was for a very different environment–South Carolina, a coastal state–their predation is damaging to the Great Plains as well, with reports of the hogs eating everything from goats to newborn cattle, the eggs of ground-nesting birds to various reptiles, and earthworms to agricultural crops.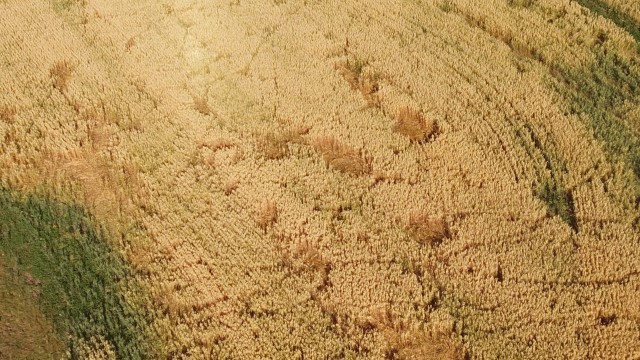 In addition to destroying farmlands and grasslands through consumption, the pigs root out tubers, destroy seedlings, trample cultivated crops, remove decomposers, and otherwise create conditions where rich soil is eroded or invasive plant species can take hold. American agricultural groups estimate boars cost that country more than a billion dollars in losses each year.
FMD
Spread of disease is another concern attributed to the boars. They can host nearly 90 different diseases that are transmittable to livestock and humans alike, the worst of them being foot-and-mouth disease (FMD). In a 2019 UK study that modeled the spread of FMD, the researchers found "population sizes above 10,000 and spread across more than 500 km2 have an increased probability of FMD being sustained for substantial periods (at least 10 years)".
That study mostly focused on the potential to manage boar populations–through hunting, culling, spread of disease, etc–and didn't broadly consider the implications for industry. However, the modeling still raises troubling statistics: even one case of FMD "caused an outbreak (secondary infection) even with average densities as low as 5 individuals/km2". If at any point the disease jumped to livestock in Alberta or Montana, it would likely mean an industry-wide shutdown.
The more wild boars that exist the greater the likelihood of a long lasting epidemic.
A problem of their own making
The Government of Alberta says "the only way to effectively eliminate wild boar at large in an area is by eradicating the entire sounder simultaneously." While the province previously paid a bounty for the pigs' ears, evidence suggests the animals are highly intelligent learn the behaviors of hunters, becoming more difficult to remove, going so far as to become nocturnal if threatened.
The province asks citizens who see the pigs roaming to safely take a picture, note the location, and to email af.wildboar@gov.ab.ca or call 310-3276 (FARM).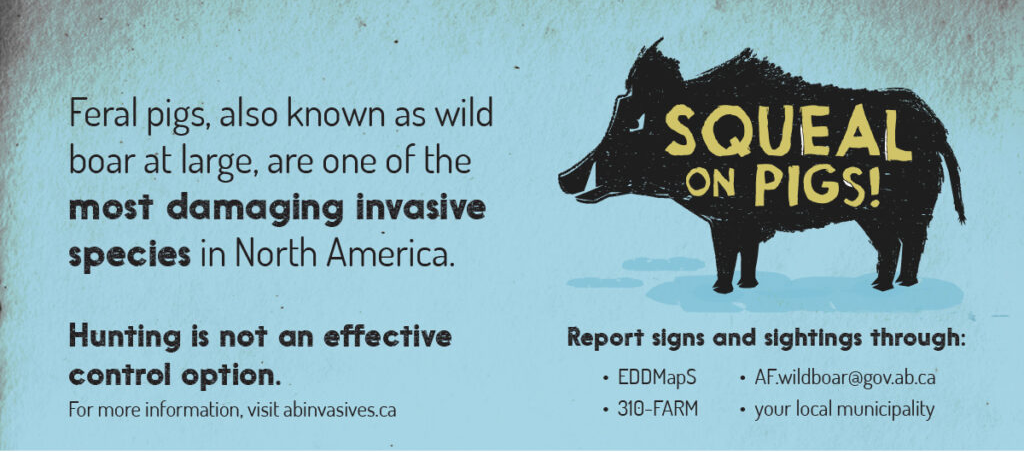 Critics of earlier efforts in neighbouring Saskatchewan launched a petition that attracted more than 15,000 signatures. The "Stop the Mass Slaughter of Wild Pigs" petition notes that many of the pigs were hybrid species originally intended to create "a longer animal with more saleable meat. "
The Canadians for Ethical Treatment of Farmed Animals group alleges the animals were let loose to fend for themselves when Canadians didn't develop an appetite for their meat, noting the irony in the problem they say was created by industry.
Despite these objections, eradication of boars continues in Saskatchewan, and it's a legal requirement for farmers in Alberta to control wild boars when they encounter them as they're classified as pests. Their thick fur allows them to survive in the harsh winter conditions found in this part of the continent and they're well adapted to deep snow.
Their expansion across the prairie provinces has raised alarm bells in Montana and they've launched their own hotline to address the pigs, with residents asked to call (406) 444-2976 on sighting the animals.