Storage wars.
A PC is nothing without somewhere to store all your important files and games! There's a ton of options and jargon floating around out there, so let's try and decode some of it.

HDD vs. SSD?
There are two different storage devices you can use in your computer, both with advantages and disadvantages.

Hard Disk Drive (HDD)
ADVANTAGES:
Massive storage capabilities
Relatively inexpensive
Typically very robust, can last 5+ years with no troubles
DISADVANTAGES:
Slower than a Solid State Drive (SSD)
Much larger in size than SSD, heavier
Produce a small amount of noise
Solid State Drive (SSD)
Incredibly fast speeds
Small and light, very thin
Completely silent
DISADVANTAGES:
More expensive than HDDs
Can fail without warning (usually from buying sketchy/cheap brands)
Hard drives work by writing data to a set of magnetic platters spinning extremely quickly. Early hard drives were extremely susceptible to vibration, and were somewhat unreliable. Modern hard drives have some degree of vibration protection built-in, and are much less prone to failure. Solid State Drives (SSDs) on the other hand, work much like flash drives or SD cards. Data is written to memory at very high speeds, with no moving parts at all.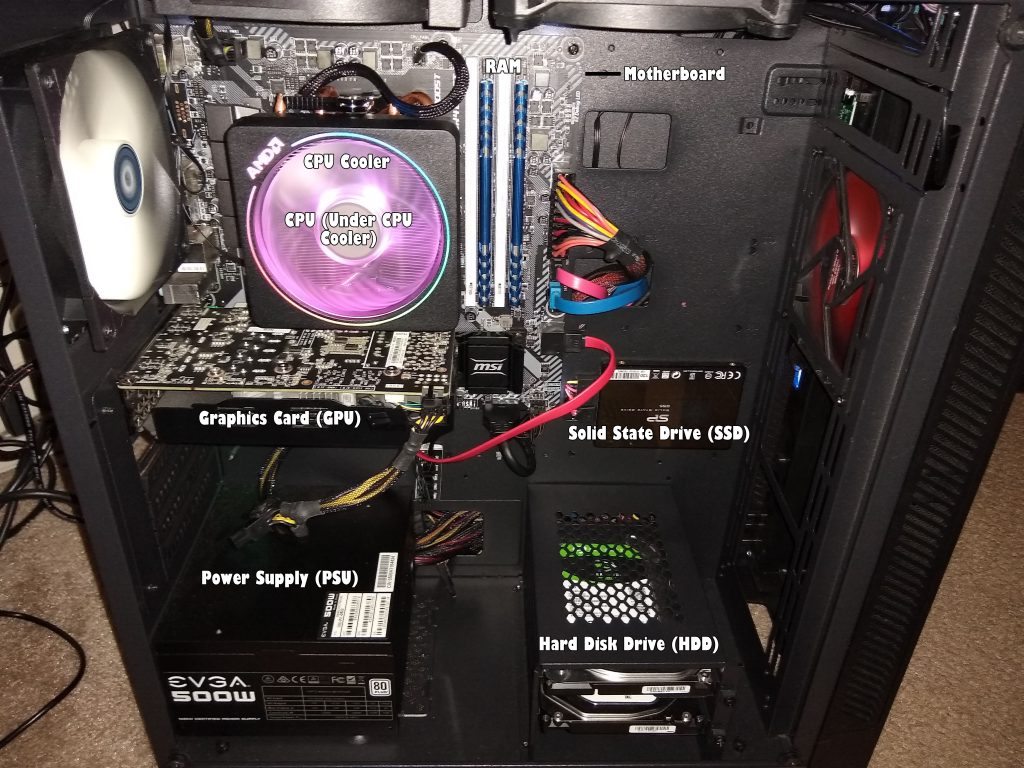 When choosing your storage format, you must choose what works best for you. If you plan on gaming, a large HDD to store your games will work much better (and cost much, much less) than a larger SSD. If you plan on using your PC for general use with some light gaming, a mid-size SSD around 256 or 512GB would be perfect. It all comes down to how much you're willing to spend, really. A popular compromise between the two is to have a large hard drive to just store games/large files, and have a smaller SSD just to install Windows on. This article details that process, but be aware that the software listed on the page has a premium component that runs about $50.