Some gifts off the beaten path.
The holiday season may look a bit different this year but our 2020 holiday gift guide is here to help you find unique, innovative, and cool gifts for those you love. Our gift guide covers useful technology, wicked science kits, games and activities to play together, and the best games related merchandise and apparel we can find.
We created a gift guide unlike any other out there. This list of gift ideas for the holiday season is guaranteed to inspire curiosity, spark creativity, and help the recipient channel their need to learn and grow. Gift recommendations included in this list are perfect for collectors, STEM engaged students, chic geeks, the young at heart, and everyone in between.
Some notes:
These last minute gift ideas may not make it in time for Christmas depending on order dates: Both the USPS and Canada Post are facing delays
Items off this list are available across the United States and Canada but we are choosing to highlight only one retailer, generally. We've avoided using Amazon, too, but many of the products can be found there. .
Liftoff! does not use affiliate links or make any commissions from sales of products listed here.
CREATE & EXPERIMENT
Gummy Candy Lab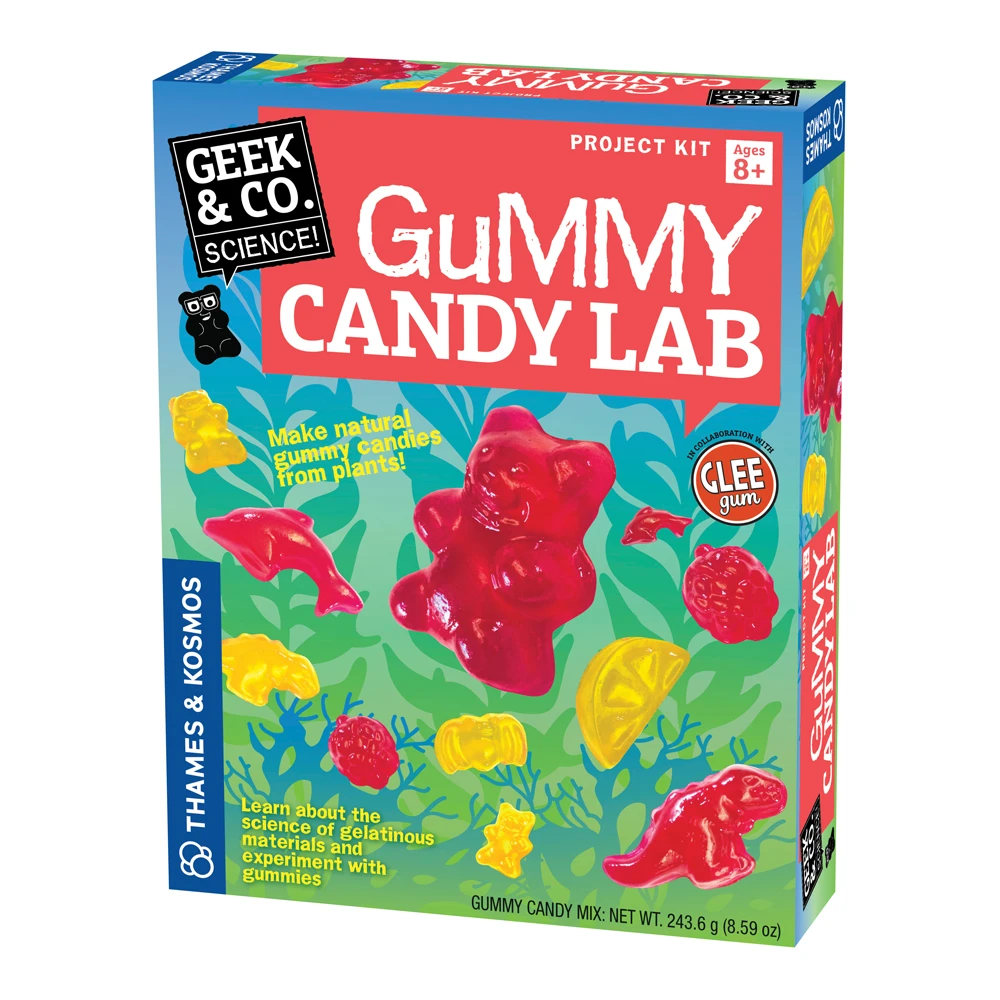 This science experiment has you creating your own gummy candies with all necessary ingredients included. These labs come in a variety of shapes–we're partial to the unicorn "rainbow" edition–and the gummies are far better tasting than we ever expected. This is a good beginner activity but be warned…the gummies won't last more than a day. They're that good.
Price: $27.99 CAD available at Mastermind (and other retailers)
Bill Nye's VR Science Kit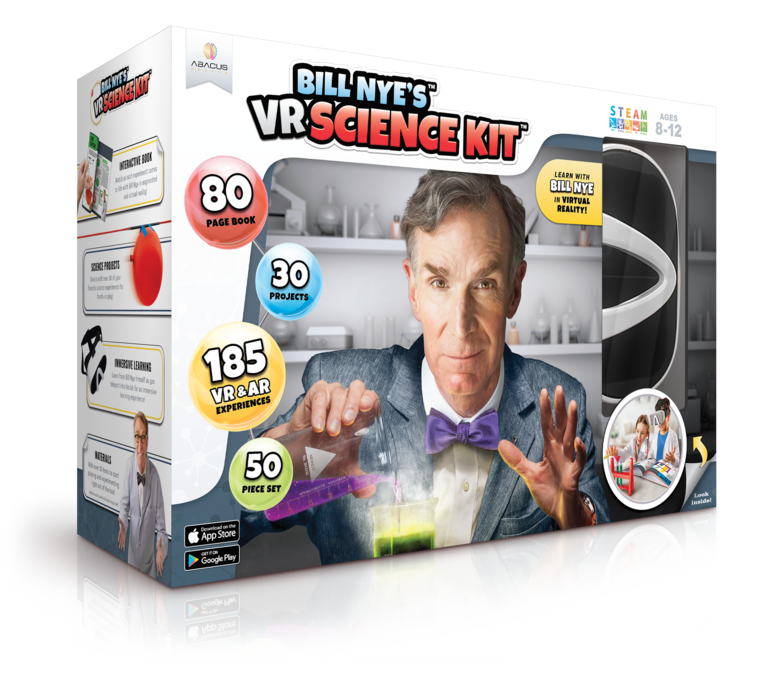 The Science Guy is back and his beginner's science kit is comprehensive, including most of the items you'll need to complete 50 experiments, all under Nye's expert tutelage. The VR kit and short instructive videos–tethered to apps on both the App Store and Google Play Store–make this package a cut above similar kits on the market.
Price: $59.99 USD available at Abacus (and other retailers)
4M Table Top Robot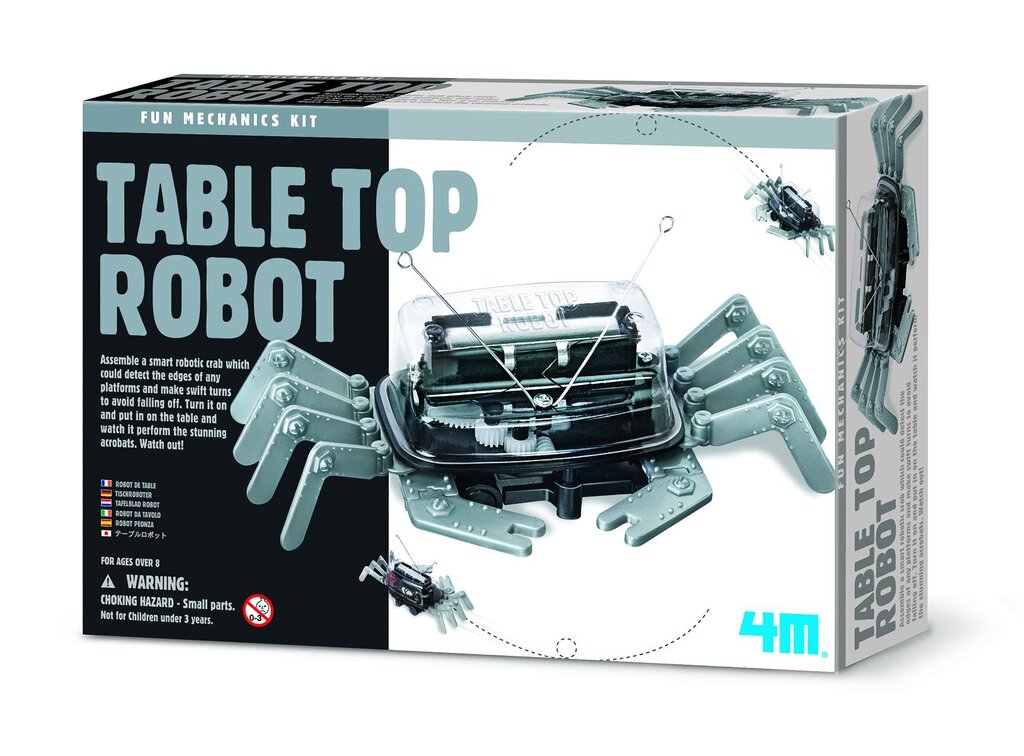 For a budget friendly robot kit, 4M's Table Top crab is one of the better offerings, and the best the company offers: a toy that the recipient gets to build, and one that's full of neat tricks like being able to detect edges, avoiding falls. This robot, like 4M's others, burns through AAA batteries, though, so be warned.
Price: $18 USD at Michael's (and other retailers)
Capcom Pocket Operators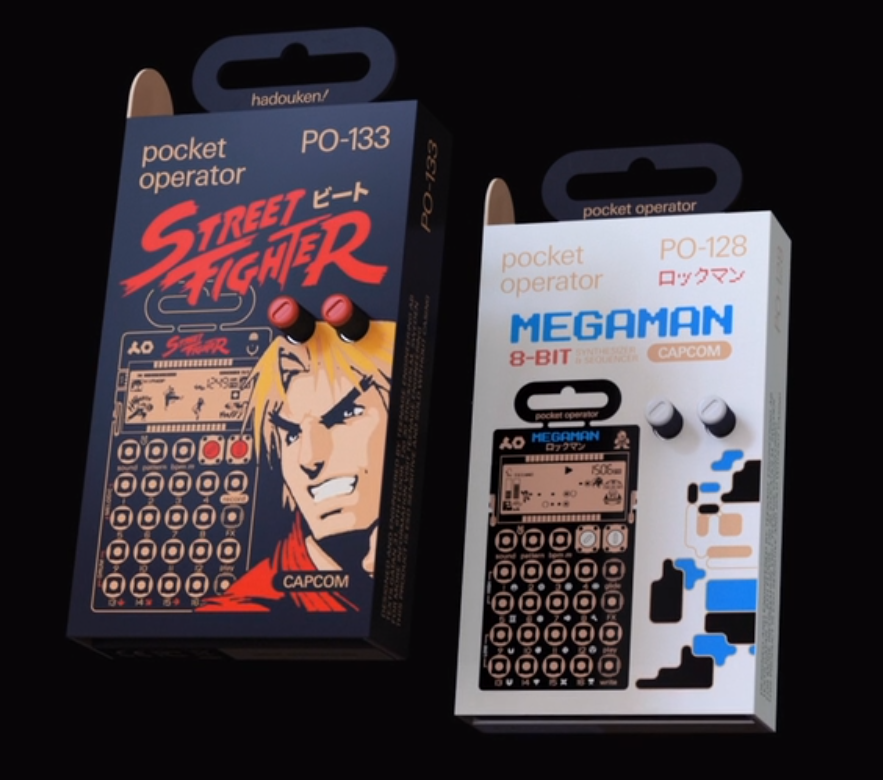 For the musically inclined, Teenage Engineering's sequencer and samplers are wonderful tools for creating new tunes. The Capcom editions–themed around Street Fighter and Mega Man–include soundtracks and samples from the respective games, while allowing up to 40 seconds of sampling, with a built-in microphone for that purpose, too.
Price: $89 USD at Teenage Engineering
LEGO Super Mario Starter Course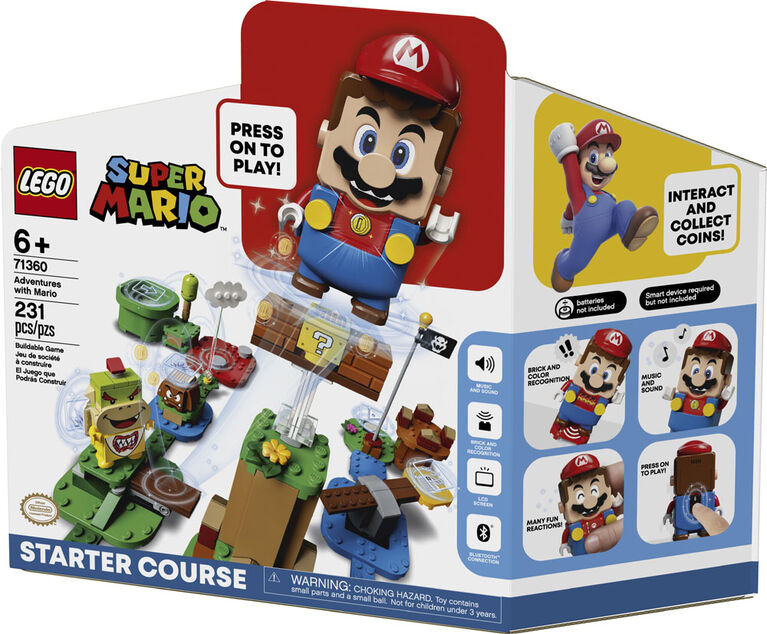 Celebrating Super Mario Bros' 35th Anniversary, this LEGO set integrates a giant, blocky Mario with a built-in LED screen and speaker, combining imaginative play with the classic game's sound effects, timers, a coin system to track progress, and a helpful app that gives inspiration for other builds. Additional courses and power-ups for Mario are available for purchase separately but the fun starts with this set.
Price: $69.99 CAD at Toys 'R Us (and other retailers)
50-in-1 Electronics Kit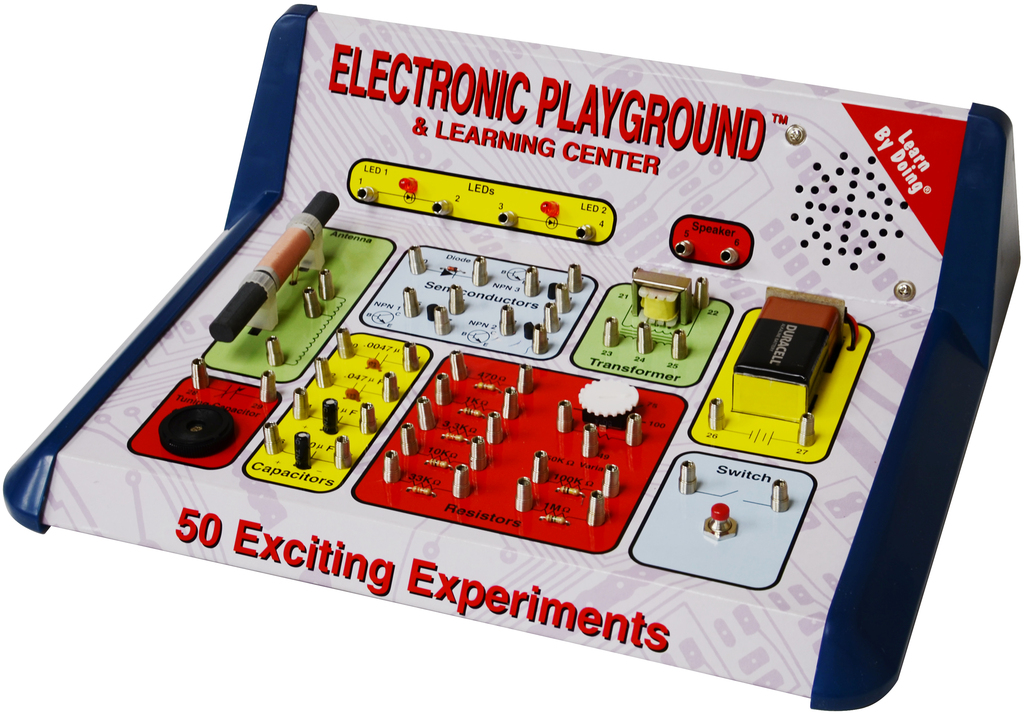 Tech director Aaron Hudspeth had a kit similar to this when he was a kid, and it shaped quite a bit of his skill set today. Now it's your turn! Powered by a single 9-volt battery, this electronics kit teaches you about the basics of electronics through building cool things like a metal detector, touch-activated lamp, transistor radio, and more!
Price: $23 at Elenco
MEL Science Kit Subscription
We're huge fans of this monthly subscription that delivers a fresh science experiment each and every month. The initial starter kit comes with everything you'll need to get yourself started but it's the themed monthly follow-ups that excite us the most; we've regularly been able to run multiple experiments with the materials sent to us with simple substitutions, too! You can see a list of the experiments MEL has offered here.
Price: $34.90 USD/month at MEL with several deals for longer subscriptions
SNUGGLE WITH THE COOLEST PLUSH
Wooloo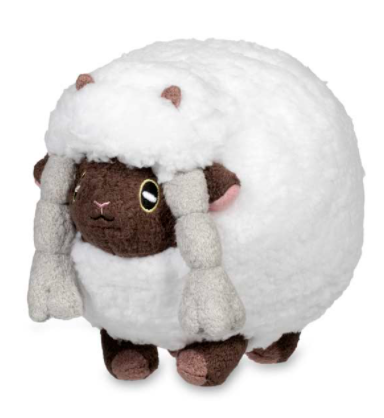 While Pokemon fans are spoiled with no shortage of plush options of their favourite creatures, the breakout star of Pokemon Sword and Shield has to be Wooloo. It's poofy. It's adorable. It begs to be snuggled with. Just look at it. There's a reason this is Hop's first partner.
Price: $20.99 CAD at The Pokemon Center
Giant Microbes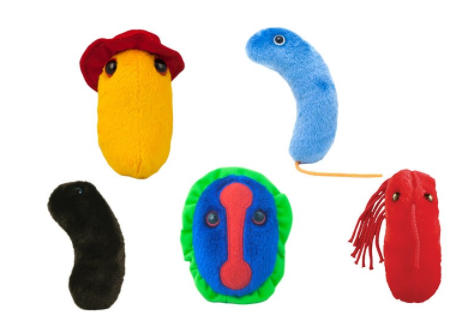 In a year filled with a literal plague, why not get a collection of your own…in plush form! Plushies come in themed boxes–we recommend the Plagues from History collection, but if you're not feeling that theme this year you can get other options like a blood-themed box–featuring cute faces and otherwise accurate (ish) designs. Individual microbes can be purchased though the boxes are by far the best value.
Price: $24.95 CAD at Giant Microbes
Doom Slayer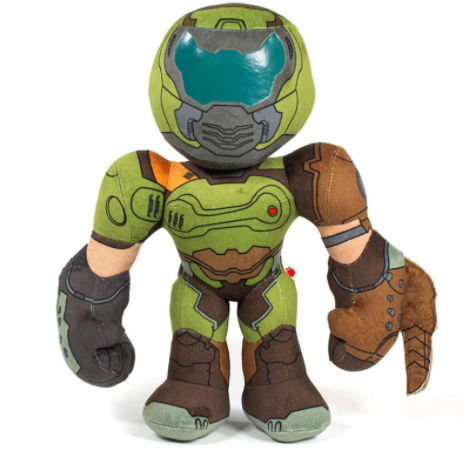 Okay, maybe your plush collection is less cute, and more shoot-y. The Doom Slayer is here for you, and you can hold him like he holds Animal Crossing's Isabelle. At 11.5" inches tall, he's a big boy, and he's done so well saving the world, the least you could do is offer him a home.
Price: $24.99 USD at Geek Store (GameStop exclusive in Canada)
Sans Undertale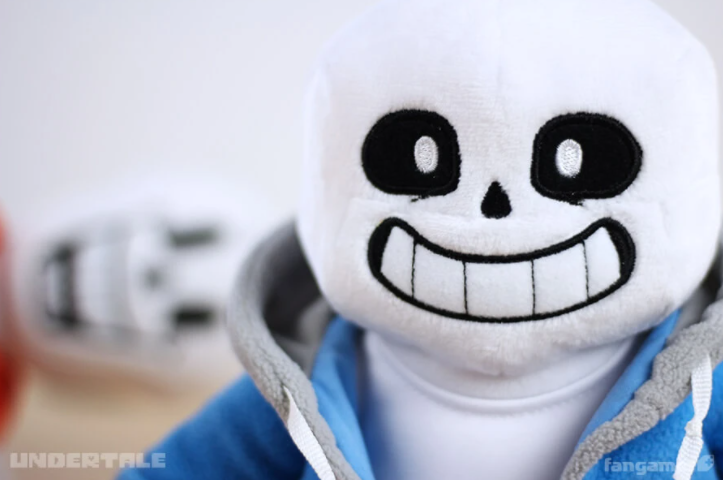 We know, we know, we know. His name is Sans and he's a skeleton featured in Undertale. But Sans Undertale is a meme that transcends all. You're either so very here for this terrifying-but-friendly skeleton or you're over him. If you're in the former camp, this 10" plush from Fangamer is for you, and it even comes with extra eyes (!!!).This is one Undertale decision you won't regret.
Price: $32 USD at Fangamer
Build-A-Bear Teddy decked out in Swarovski Crystals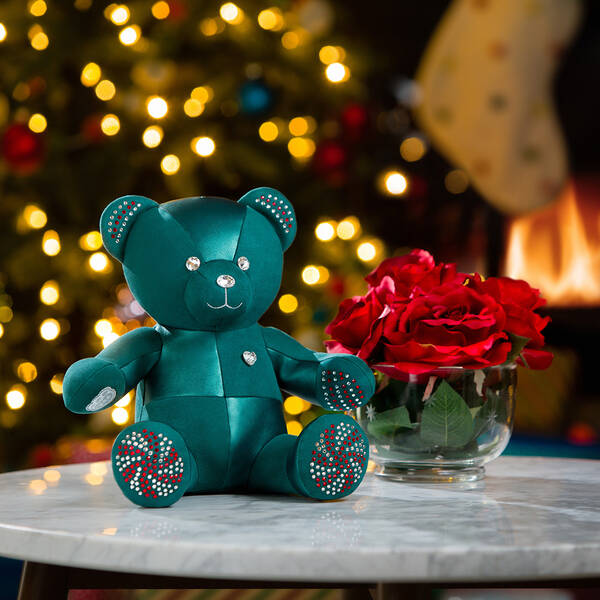 This luxurious teddy is quite unlike your normal Build-A-Bear fare. For one, you can't stuff it or otherwise customize it, which kind of goes against the brand. It makes up for it in being so over the top decked out, though, with bona fide Swarovski crystals lining the ears, face, and paws, with a bonus crystal-heart. It comes in a highly collectible bag too! Its striking seafoam colouring makes us proud. (We don't recommend snuggling this collectible however.)
Price: $98 USD at Build-A-Bear (on sale for less!)
GET UP, GET MOVING
NERF Elite 2.0 Echo CS-10 Blaster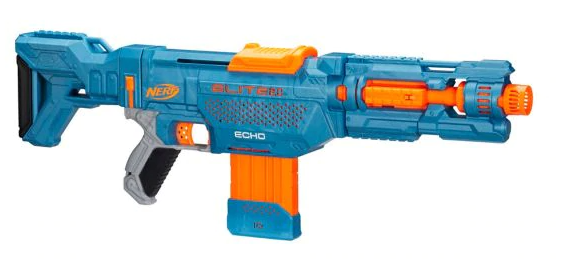 Effectively a re-skinned Delta Trooper–that's one of our fave NERF products–the Elite 2.0 Echo does everything right. It's fully interchangeable with all your old parts, its tactical rails, mostly confined to the barrel extension, beg you to deck it out, though dropping it (and the stock) make this a lightweight beauty. From 15-25 ft away, this is the best of the new blasters, and the fact it comes with 24 darts is the cherry on top.
Price: $39.99 CAD at Canadian Tire (and other retailers)
Kikkerland Table Top Curling Game

Hurry hard! We've spent more time than we care to admit playing this at office parties, on breaks, and in between other life moments, that it's one of our most highly recommended gifts. Incredibly portable, we recommend setting up a massive tournament post-haste: it's one of our first orders of business post pandemic. Flicking the rocks is good fun and it's a cheap alternative to a game like crokinole.
Price: $17.98 CAD at Staples
Waboba Nasa Moon Ball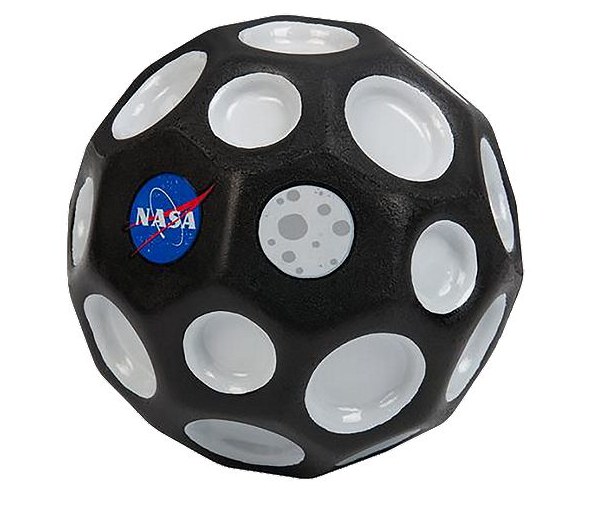 The perfect stocking stuffer! These balls bounce erratically and they bounce high. They're perfectly usable for agility training and developing lightning reflexes but we'd be lying if we didn't tell you we love nothing more than chucking these as hard as we possibly can and watching what happens. The NASA branding is a nice bonus for the future space explorer.
Price: $9.99 CAD at SportChek (and other retailers)
TECH ESSENTIALS
Logitech C920 Webcam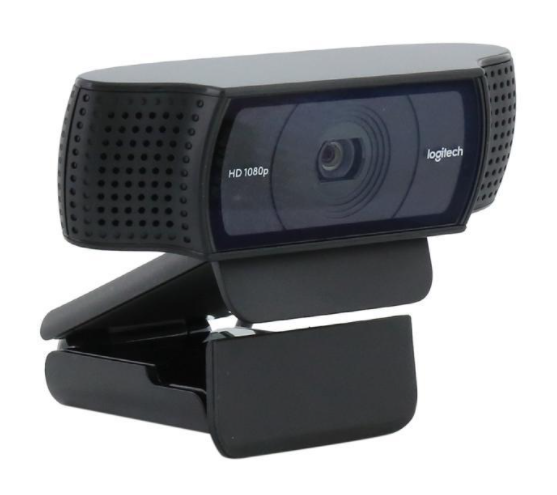 In a year of remote work and learning it might be time to upgrade the old webcam. Logitech's C920 is a cut above entry level but it has entry level accessibility. Simply plug it in and you have a stellar camera and solid mic ready to go. While it by no means offers everything you might want from a camera setup–we're thinking the ability to pan, rotate, zoom, etc–it does create clear images and adjusts easily.
Price: $104.99 USD at Newegg (and other retailers)
Raspberry Pi 4 Desktop Kit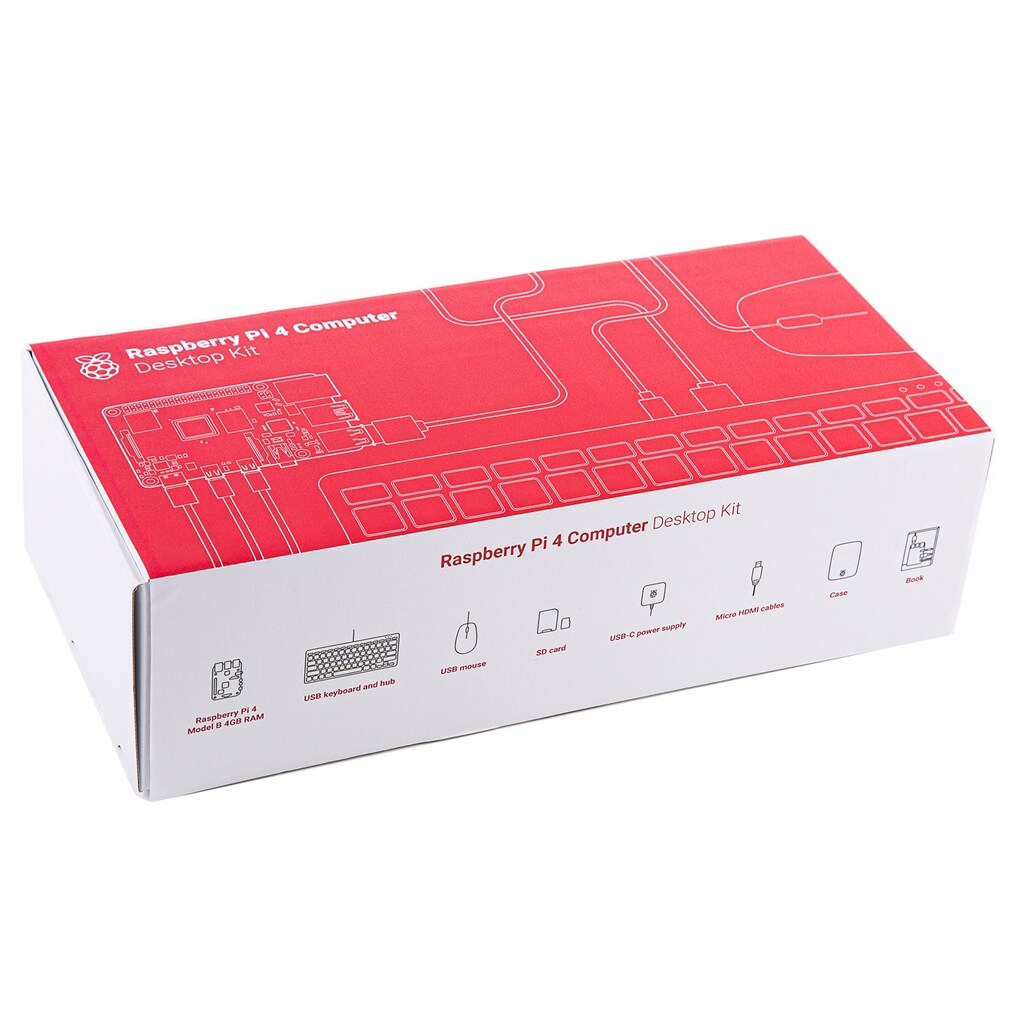 We're huge fans of Raspberry Pi as a desktop alternative for younger household members or for someone looking to tinker within their ecosystem. Coming with everything you'd need for a desktop setup except the monitor(s), this is a fast machine that likes being taken through its paces. You might also want to check out the keyboard oriented 400 series.
Price: $99.95 USD to $139.95 USD at CanaKit
Ocean Galaxy Light™ Projector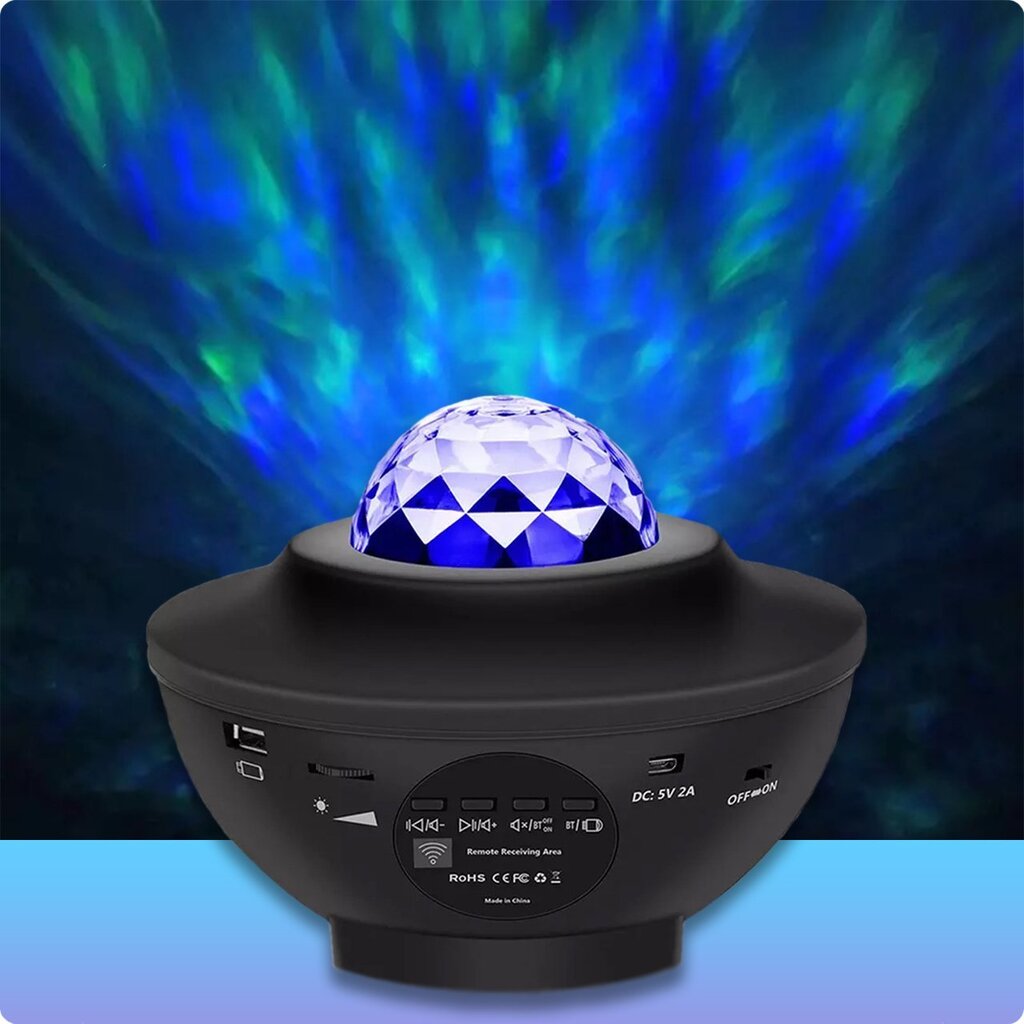 This projector is all about creating a relaxing atmosphere that makes you feel like you're drifting through a spacetime odyssey. Like all the tech in this section, it's easy to use and set up, with an instant payoff: a zen-inducing nebula filling any space you put it in. We recommend turning the dimmer–this thing is bright!–while watching it react to whatever tunes you play.
Price: $49.99 (ongoing sale) at Ocean Galaxy Light
SanDisk 256GB microSD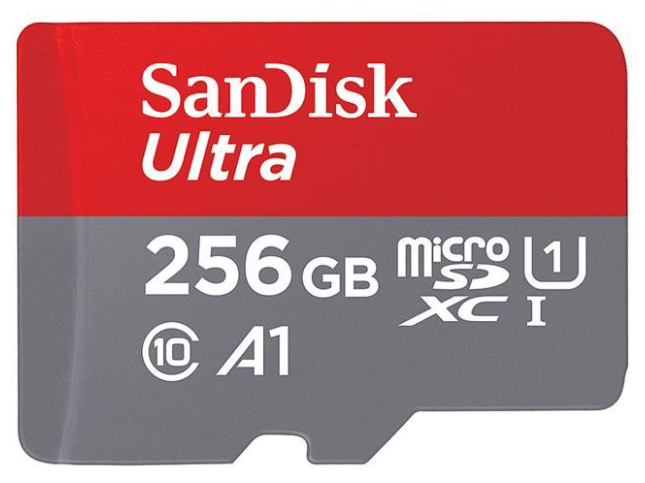 There's no shortage of things to do with a microSD card but perhaps the most relevant use is to store your never ending collection of amazing Nintendo Switch games like Animal Crossing: New Horizons, Pokemon Sword and Shield, or Super Smash Bros Ultimate. SanDisk partnered with Nintendo to create officially licensed Switch microSD cards but any old one will do. This storage solution can't be beat.
Price: $32.16 at Newegg (and other retailers).
CLOTHING
Assassin's Creed face mask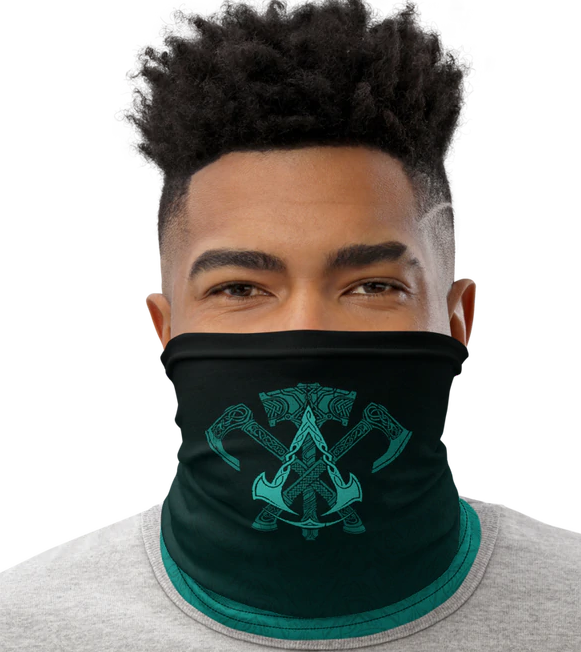 Tis the season to wear a face mask. Assassin's Creed Valhalla inspired masks are available on the Ubisoft Shop in a beautiful seafoam green. (It's the colour of the year, what can we say?) Axes, logo patterns, a raven and…Eivor's beard are all available. These are designed in such a way to be used to fully accessorize as bandana's, wristbands, whatever you like. They're not medical grade, though, so maybe stay home and do viking things. One size fits all.
Price: $24.99 CAD at Ubisoft Shop
Pokemon Masks
Hey! It's also the season to wash your hands! Cool! But you should still wear a mask. Pokemon Masks are made out of the scraps from the way cool Pokemon Shirts people with patterns based on the original 151 Pokemon. Two sizes available. Items will not arrive prior to Christmas.
Price: $18 USD plus shipping from Original Stitch
Among Us socks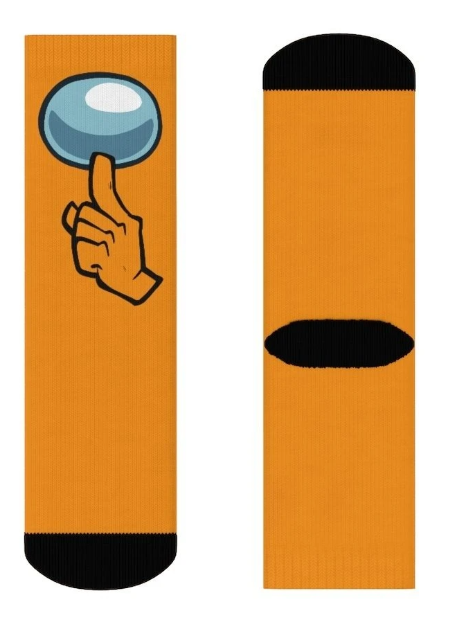 Show off your allegiance to your crewmates with these coloured socks that don't scream sus in their dying breaths. They're just socks, after all, and you're not the Impostor. They're also the perfect accessory for a DIY Among Us costume able to match whatever colour you choose in game. We're orange. Always orange.
Price: $15 USD at Innersloth Store
Animal Crossing Shirt and Hoodie
A one-two punch for you! Support local business by acquiring your real estate through noted utopian socialist Tom Nook and rocking a t-shirt that was in no way complimentary. And be sure to fly Dodo Air…the only game in town! A rad blue hoodie with the company logo is worth a purchase. Both items are on sale through their respective stores while sizing is available.
Tom Nook t-shirt is available at BoxLunch for $20.23.
Dodo Airlines hoodie is available at Hot Topic for $27.93.
TABLETOP
Psychomancer's Grace 35mm Engraved Aluminium Die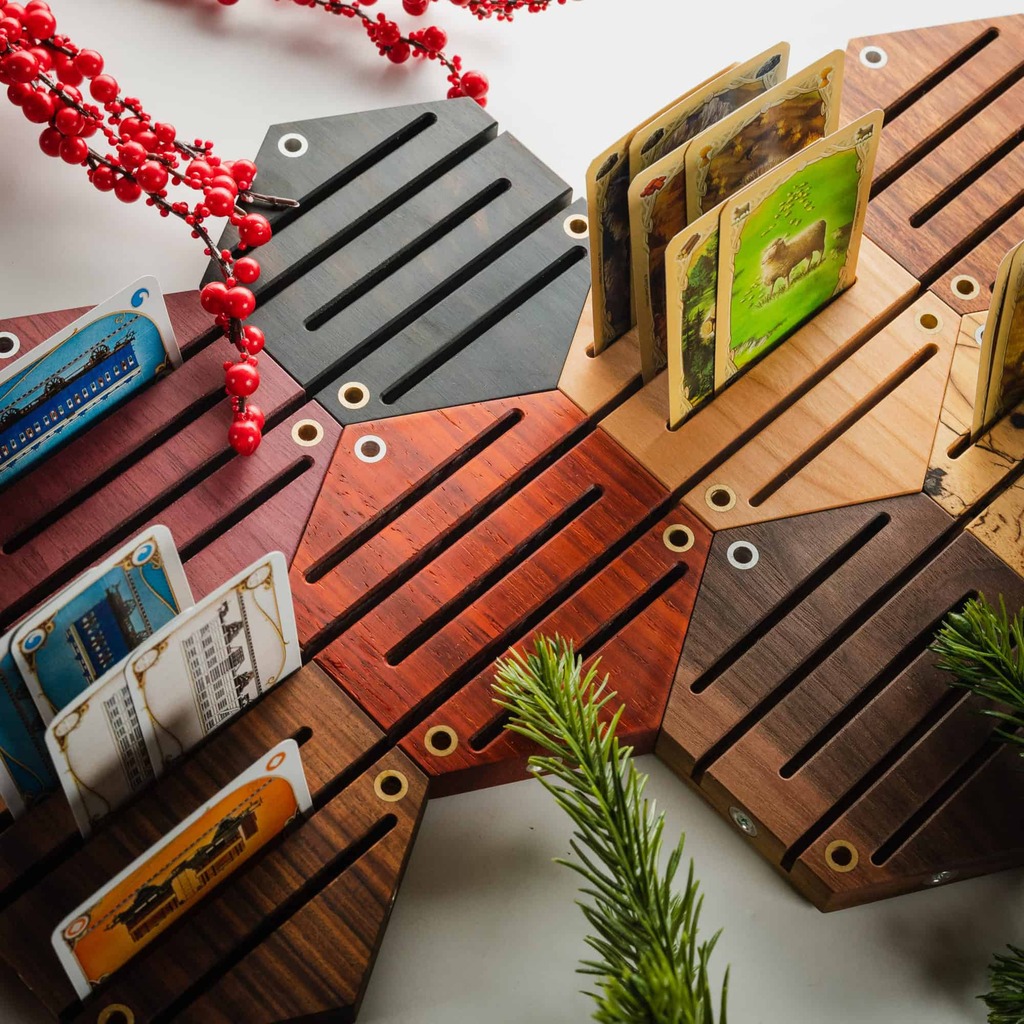 This die is sure to be a collector's item: Its beautiful blue and gold colouring pays homage to the Take This charity. Proceeds from the purchase also go to Take This to support their mental health initiatives. While this is an expensive piece it benefits one of the most important charities in the gaming space. It feels good and we're huge fan of these particular dice anyways.
Price: $55 USD at Level Up Dice
Tabletop Card Tile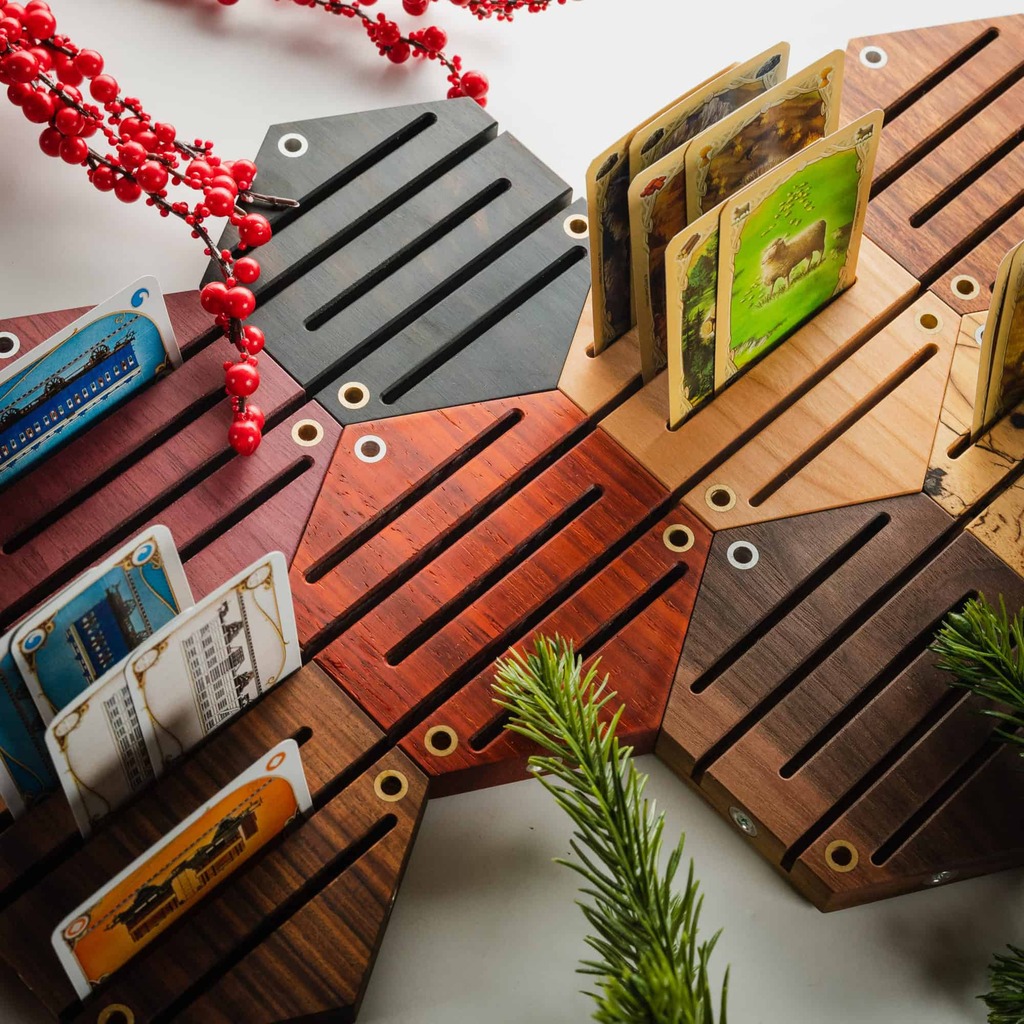 We play a lot of games with cards–from Catan to Wingspan and everything in between–and these card tiles are handy for holding on to everything when your synergies generate nothing but resources for you. Wyrmwood's products are made from high quality woods and in this product, like many of their works, you won't quite know which wood you'll get — may the odds be ever in your favour. These stack nicely and can connect magnetically, too, but note that you're only buying one at a time.
Price: $24-35 USD at Wyrmwood
Dice Tower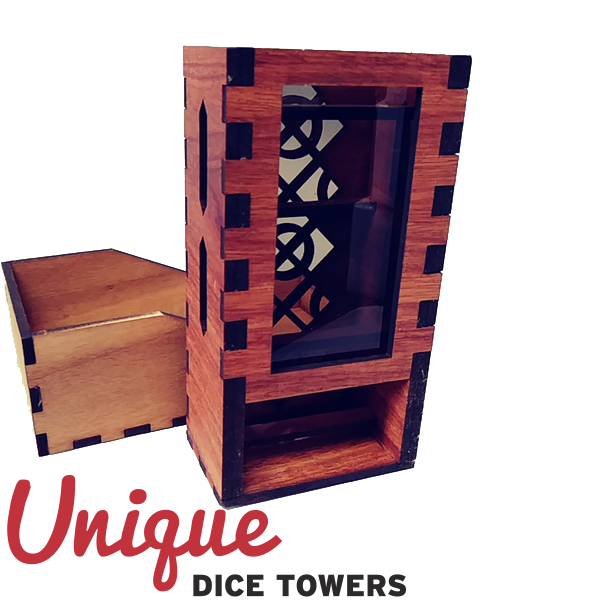 Another organizational solution for tabletop collectors. There's a number of great dice towers out there but the attention to detail is top notch on these. We particularly like the diamond cut-outs on the sides as it adds to a classy finish that doesn't scream "gamer". Nothing wrong with gaming it up, but this is an elegant way to blend hobbies and passions, and the wood is timeless.
Price: $59.99 at Unique Dice Towers
Scooby-Doo: Betrayal At Mystery Mansion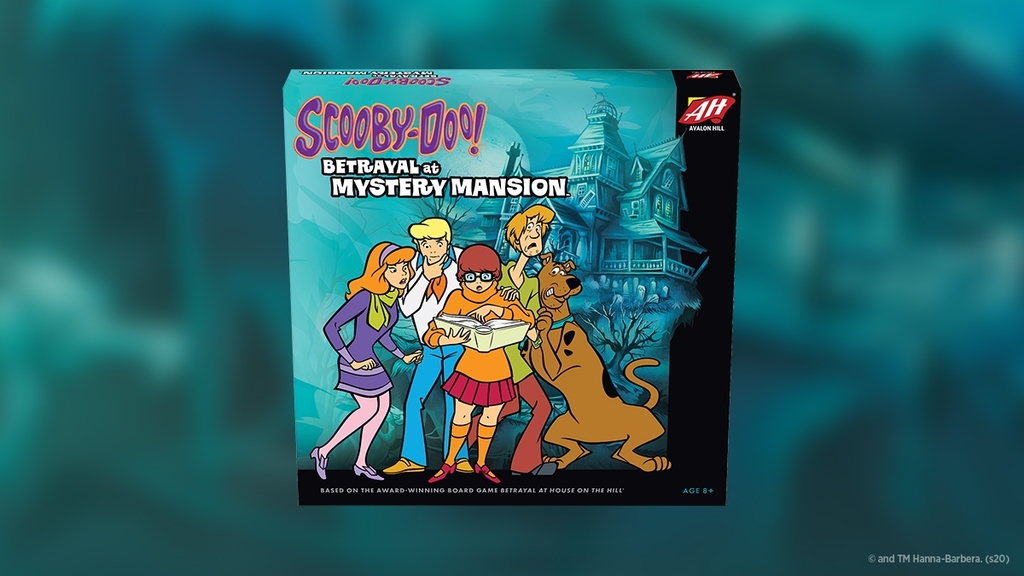 Our only game recommendation–you follow the site year round, right?–came out this summer and hasn't found the larger audience it deserves. A simplified take on the ever popular Betrayal At House on the Hill, this is great for both younger and more casual gamers, somewhat condensing the game both in terms of space and complexity, while slapping on Scooby-Doo licensing. That Scooby brand is strong, though, and the "haunts" are all inspired from classic episodes. The "betrayal" part of the game is logically introduced, no less, and this is a game we heartily recommend for most any tabletop fan. Jinkies!
Price: Varies, but around $40 USD from your local game shop
.
BEST OF THE REST
Banjo-Kazooie Tote Bag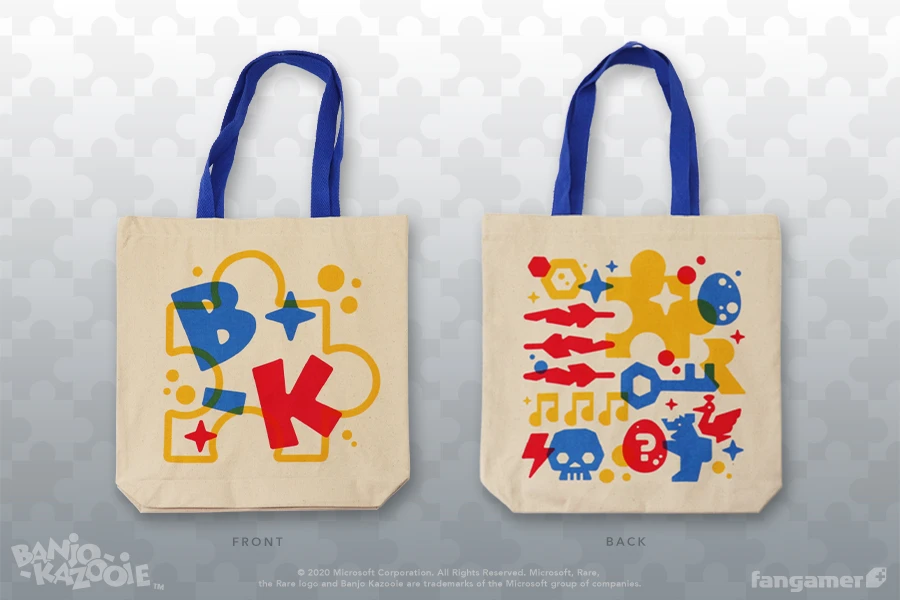 For fans of RARE, Smash Bros, or the N64, you can't go wrong with this tote. The Banjo-Kazooie design is crisp, featuring the iconic puzzle piece, the lettermark, music notes, skulls, keys, feathers, and more! It's a striking and simple design that itself is art but placed on a tote it becomes a practical gift for hauling your setups (or groceries) around.
Price: $19 USD at Fangamer
Super Mario Bros Manga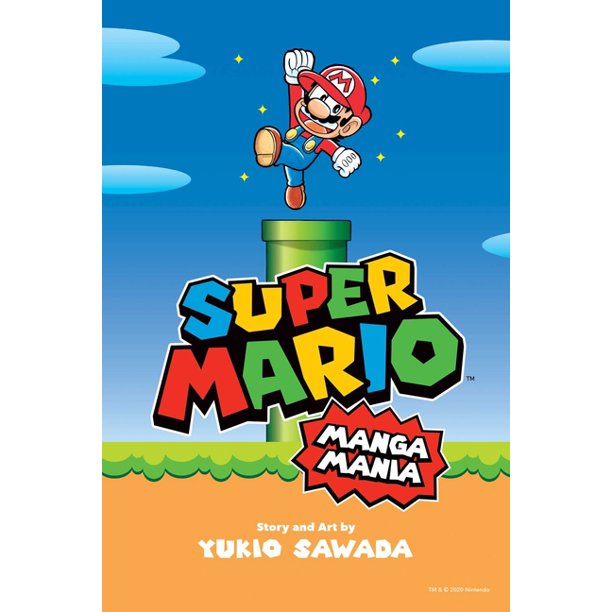 We haven't read this yet so it's a recommendation based on curiosity.and little more. At 160 pages the book promises to contain several Mario themed adventures for the manga and Mario lover. As the first adaptation to hit stateside it's likely more will follow. There are worse options for reluctant readers.
Price: $8.99 USD at Walmart
Hades Soundtrack – vinyl – pre-order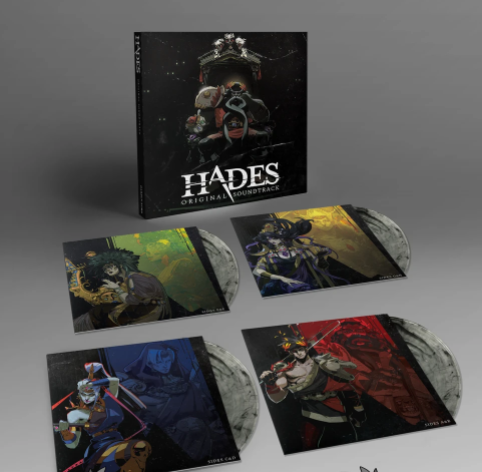 Not only is Hades one of the best games of the year, it also has an amazing soundtrack, that we listen to ad nauseum. Fans of the game and audiophiles alike will surely appreciate "30 music tracks spread across four clear-with-black-swirl 150-gram LPs" contained within beautiful artwork from the game. Purchases also come with a digital download!
Price: $59.99 USD at Supergiant Games
Own a piece of the first (commercially successful) supercomputer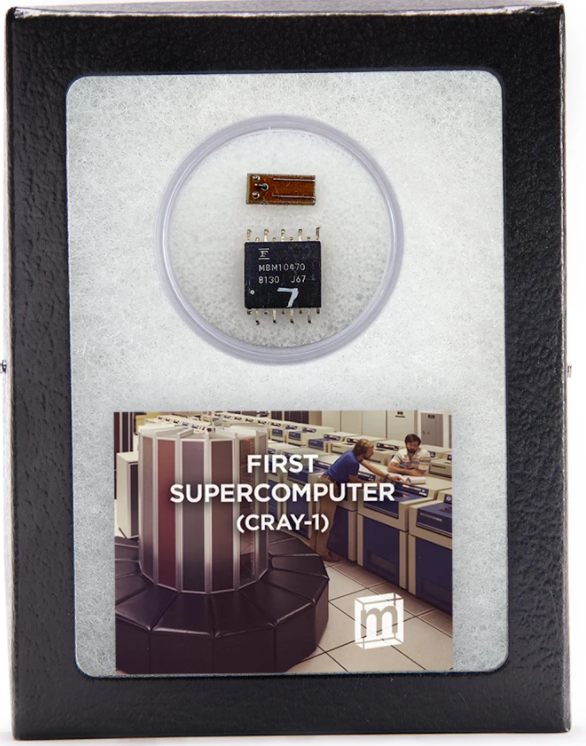 Cray-1 was the world's first supercomputer that got any traction. This collector's item would be a piece of module board or the board + IC chip. It's an actual piece of history for tech aficionados, historically minded folks, or just geeks. An information card and box for safe keeping/display is included.
Price: $29 for just module board, $49 for board + chip at Mini Museum
That's it for this year's list! 32 items that represent the best gifts for the collector, geek, nerd, or person who has everything. This list of holiday gifts for 2020 is your one stop shop for unique gifts that inspire curiosity and sparks the imagination!