A full release.
Since Sephiroth's surprise reveal at The Game Awards last week we've eagerly awaited the debut of the one-winged angel in Super Smash Bros. Ultimate.
Today, director Masahiro Sakurai walked through the character's moveset, provided tidbits on the development, and revealed a slate of new Mii Fighter costumes including Final Fantasy VII's Barret, Tifa, and Aerith, walked through Sephiroth's stage Northern Cave, announced a new variation for Cloud's Final Smash, as well as the return of the Chocobo hat and Geno costume that previously accompanied Cloud into Super Smash Bros for Wii U.
Make no mistake, though, the main event of Sakurai's demonstration is fully on Sephiroth, and he revealed some of the character's distinct features in his 37 minute long presentation, that included a surprise chance at battling (and unlocking) the SOLDIER 1st Class himself.
Sephiroth's stature works against him in Super Smash Bros. Ultimate — he's tall which means he's prone to getting hit. Unlike other larger characters, Sephiroth is light, making launching him somewhat easier than may be expected. That doesn't mean the character doesn't pack a punch, however, and when he's in danger his angel wing emerges, giving him a host of buffs to speed and strength, while adding an extra mid-air jump to help his recovery.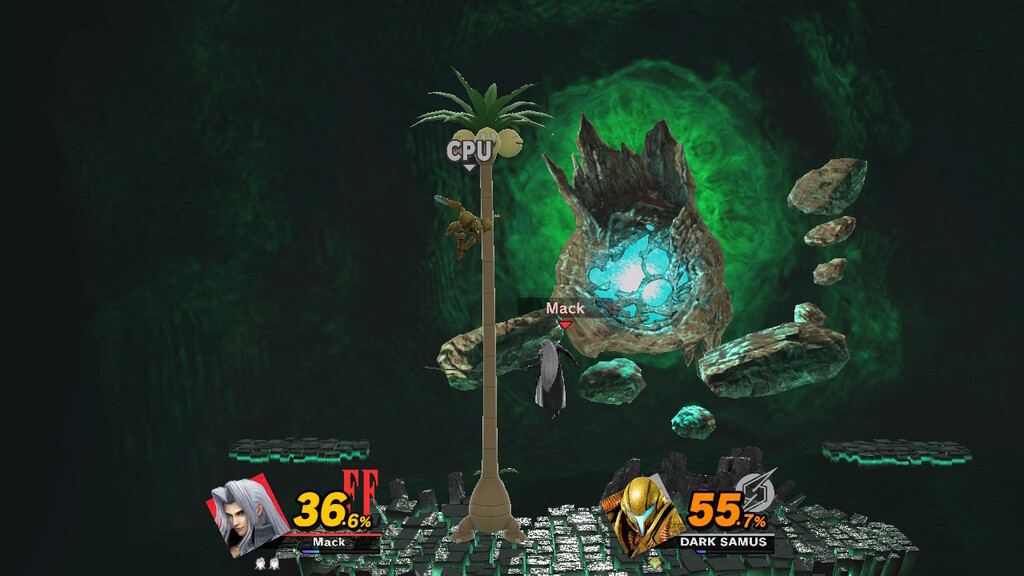 His smash attacks also come with a unique feature: super armour. Once charging an attack, Sephiroth can't be knocked back–making up for his ability to be launched–but he will still take damage. Generally, his smashes, airs, and tilts will utilize his iconic sword Masamune, with the sweet-spot for damage landing either in the middle or at the tip, depending on the attack.
Sephiroth's specials have more flair. An explosive special–flare, megaflare, and gigaflare–packs a wallop. Shadow Flare, the side special, features delayed gratification, circling around your opponent until exploding seconds later. This range of projectiles makes Sephiroth more than just another anime swordsman.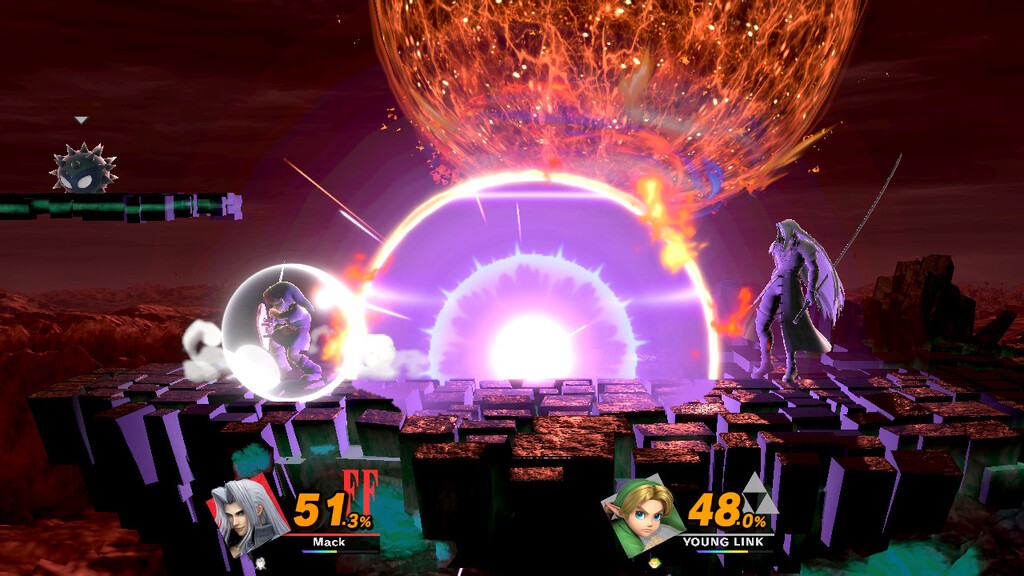 His up special is reminiscent of members of the Star Fox team and is able to be angled in any direction including laterally. Charging it unleashes Octaslash to send a flurry of attacks out at the conclusion of the movement. Scintilla, Sephiroth's counter/shield type move, still can unleash damage even without the opponent launching an attack.
All of this is to say that, in our initial playtesting with both veteran players and newcomers, Sephiroth hits like a tank. The newcomers benefitted from his super armour, his utility at mid and long range, his solid recovery, his angel winged buffs, and his overall strength. More veteran players immediately started creating combinations with his flares, grabs, and tilts to devastating effect. Edge guarding–the technique of preventing your opponent from recovering–seems to be a key feature of Sephiroth, as he has seemingly more options to punish returning fighters than others we're used to playing.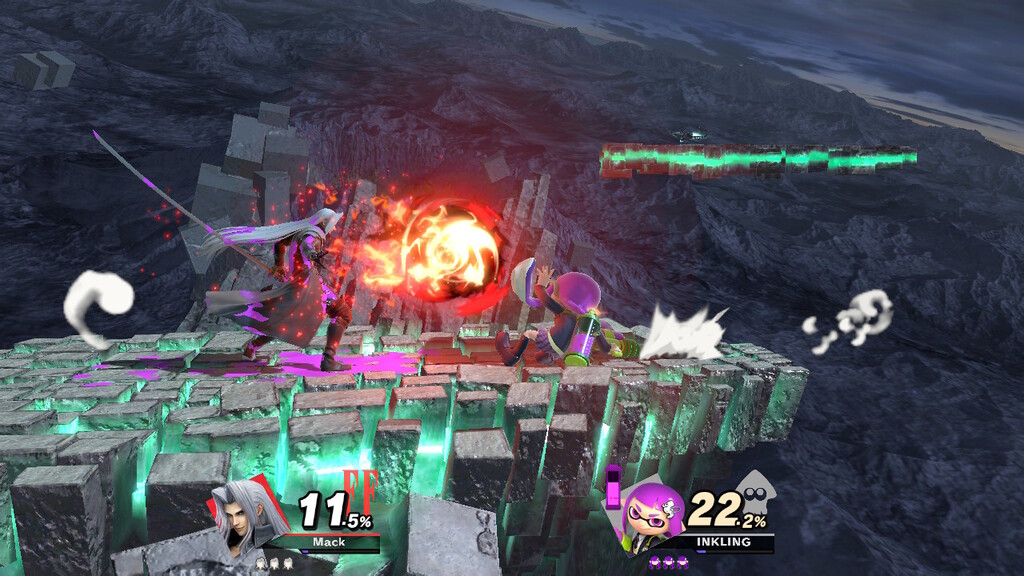 Sephiroth's debut is more fully featured than Cloud's was on the Wii U: When Cloud debuted, only two pieces of music were included, neither of them remixes or otherwise newly featured. Sephiroth doesn't include as many as other characters typically do but the nine new pieces include new arrangements. It's a step in the right direction.
As already mentioned, five Final Fantasy/Square Enix Mii Fighter costumes are also debuting alongside the fallen angel, making him feel somewhat more important. Minecraft's Mii additions totaled three, for comparison, while other properties like No More Heroes and Bomberman stole the show.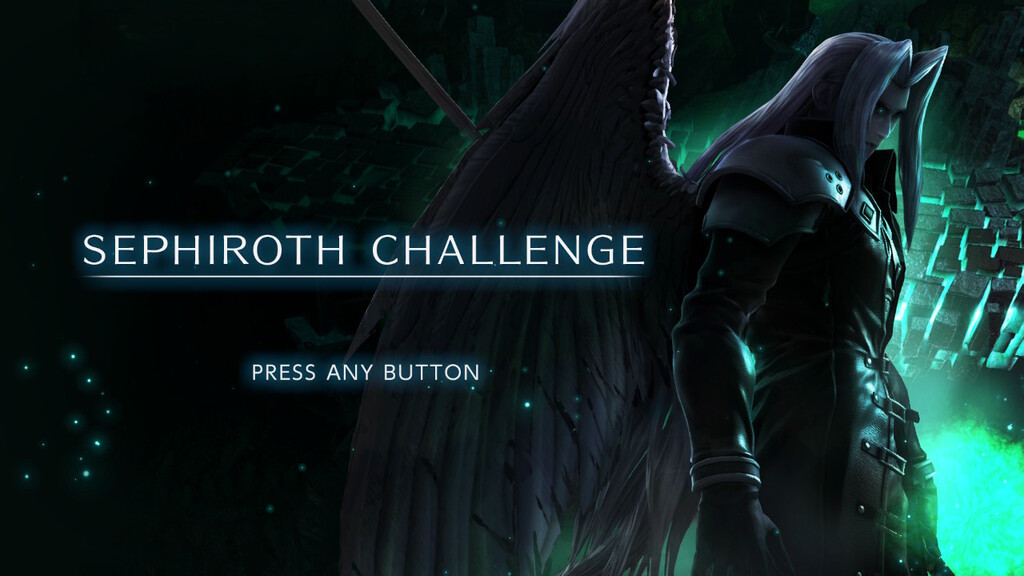 Sephiroth also benefits from a somewhat unique stage. While the Northern Cave isn't particularly unique–it's an elongated stage with two platforms off on either side–it does retell the final boss fight of Final Fantasy VII in surprising detail. There are spoilers abounding in this stage if you somehow still haven't gotten around to beating it 20 years later.
Such an inclusion makes Sephiroth feel like the boss he is; it's a wink and a nod in cinematic form. The above screens give away two key moments from this final battle.
Above all else, though, Sephiroth receives a Smash Bros. inspired treatment that makes him feel special compared to other DLC fighters. While he's available for purchase now, he's not instantly unlocked: he's tucked away behind a special menu and a one-on-one stamina battle. Players have their choice of difficulty for challenging the villain but such a battle is reminiscent of the CHALLENGER APPROACHING screen the series is known for, a worthy introduction to an iconic character.
It's a limited time lockout, by the way, so if you can't be bothered battling him, he'll unlock naturally on December 22nd, as part of his official release. Still, the exclusive five day window to battle Sephiroth as a distinct boss, complete with logging of your completion times, is a worthy challenge for Smash veterans, and we emphatically recommend the Very Hard setting.
Don't let Sephiroth become a mere memory (he doesn't like that!) and tackle his limited time challenge mode now before his official launch next week.
READ: PLAYSTATION'S ALL STAR: WHY CLOUD STRIFE IS STILL SUPER SMASH BROS. BIGGEST INCLUSION
IMAGES: Nintendo, Square Enix, various other rights holders, captured on Nintendo Switch (handheld mode) by Evan McIntosh