An analysis of propaganda and kids media in Final Fantasy 7 and Japanese history
Without competitors or a need for political neutrality, the weapons company synonymous with Midgar's government in FFVII Remake, Shinra, is able to monopolize children's media unfettered, wielding pop culture as shameless propaganda. Their chief weapon? A friendly and cute beagle sporting an easily recognizable combat helmet and a militaristic side that betrays something more sinister while simultaneously politicizing Cloud's struggle for identity.
We never speak to Stamp, and neither does Cloud, as Stamp is entirely mediated through billboards, books, clothing, TV shows, and songs of which you have only passing or implied interaction. The player is privy only to what the environment implies about Stamp or what the characters have to say about the dog. This use of propaganda situates itself not just in the context of Final Fantasy's world or the game as a political object but within our own past of animation driven wartime propaganda.
~
In the early days of anime production, some studios were paid by political organizations to produce cartoons. By the time war progressed in the 1940s, the most expensive anime was commissioned by the Japanese Naval Ministry.
Momotaro's Divine Sea Warriors was the first full-length anime film, first screened in 1945 following the success of director Seo Mitsuyo's Momotaro's Sea Eagles in 1943 — a rousing and chilling cartoon interpretation of Pearl Harbor about rescuing people of your nation, even though it's shown using monkeys and birds. The main character, Momotaro, is a cute version of a well-known Japanese folklore hero typically born from a peach who fights oni to protect his village and adoptive grandparents.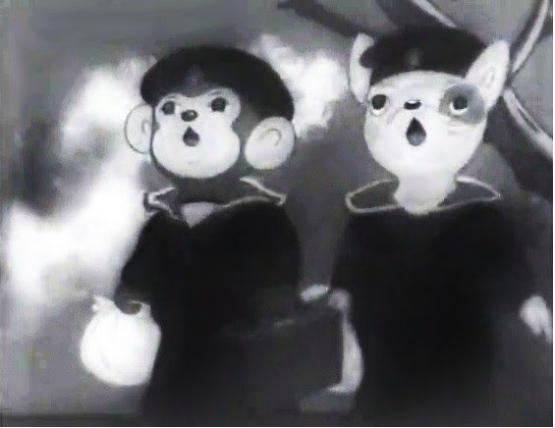 In Divine Warriors, Momotaro is a general, commanding the Japanese army to liberate Asia from Western colonizers, attempting to dominate the continent itself. Divine Warriors' creators were clearly indebted to Disney; after viewing Fantasia (1940), Mitsuyo's inspiration from it can be seen in the anthropomorphic depiction of races, its disjointed form, and pre-scoring technique animated to align with existing music.
Stamp's cultural reference, likewise, is seemingly Disney.
"All roads point to expansion be they economic or military."
Rather than using a generic anime style, Stamp's appearance anchors him to a specific moment in Japanese history, as well as to connotations of wholesomeness and materialism. In the game, there is a recurring billboard ad for "The Adventures of Stamp 3: Stamp Stands Up For His Friends" while another shows Stamp rescuing a blond dog in heroic fashion.
There is a musical sequence in Sea Warriors where various island animals sing the Japanese alphabet, a scene which "[e]ffectively summarizes the Japanese ideological metaphor of kinship between Japan and other Asian countries as part of a discourse in which Japan emancipates them from Western colonialism as their leader." (Hikari, p.192) It's possible that it was planned to be shown in controlled territory.
Similarly, a disc for Stamp's theme song can be found as a recording and played at various jukeboxes, whose lyrics portray a heroic soldier:
'Cuz now he's kicking bad guy butt

Knock an adversary into the next week

Go all out (go all out), go all out Lil' Stamp

You've got so much courage and everybody thinks you are swell

And later on:

If only we could have such big hearts

La la la la

And take a stand at Shinra
One of the refrains includes a subliminal message via doggy pun:
Bow wow wow wow wow wow
Unlike Momotaro, Stamp seems to be apolitical but both exist for imperial organizations that launder war and colonialism. If Stamp follows the trends of the greater media of Midgar then he also indoctrinates the children with revisionist history. After the player bombs a mako reactor, the people of Midgar watch news on a public screen that pins the blame on Wutai, a country that Midgar defeated in a war a few years prior.
Like Momotaro in World War II, Stamp puts a cute face on warfare and imperialism. In the greater themes of the game, he represents childhood aspirations to heroism, brotherhood, and loyalty. FFVIIR then, is about reclamation of these values from Shinra.
Stamp is not just a piece of propaganda for children but also a symbol and metaphor for Cloud himself. The anti-Shinra terrorist organization, Avalanche, of which the player's party is a part, also re-appropriate the dog.
Avalanche graffiti of Stamp is sprayed in tunnels of the Shinra subsystem. This dog's nose, however, is a waypoint always pointing towards the party's destination. It's a covert message subverting Shinra's expectation of artistic docility against itself.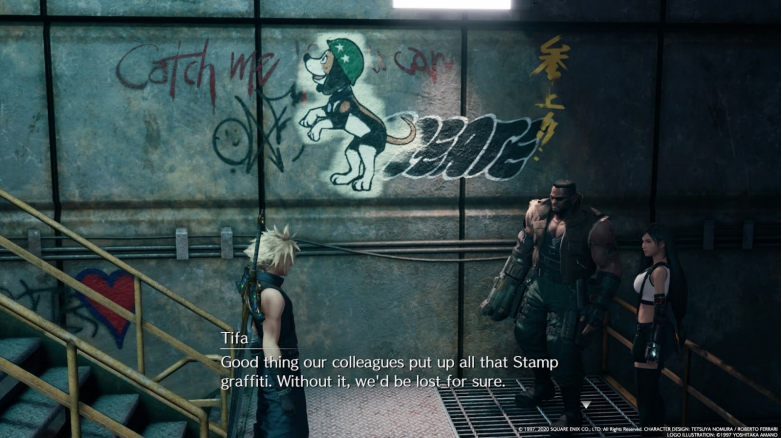 Cannot Final Fantasy 7 work the same way to subvert our assumptions of Japan's supposed culture of conformity?
Corporate manipulation has — or would easily forge – a stranglehold on human potential and imagination; indeed, such manipulation manufactures the boundaries of what is possible. Furthermore, war requires these qualities in children and citizens, and war is not viewed as legitimate if waged for economic growth.
~
In the first interaction between Cloud and Barrett, when they meet to bomb a reactor, Barrett calls him "Stamp" teasingly, expressing skepticism about Cloud's "ex-SOLDIER" status.
"Stamp scared to bite the hand that fed him?", Barrett asks, "or is he a loyal little doggy!"
This ribbing is in touch with Cloud's juvenile motives and a childhood flashback reveals Cloud confiding to Tifa his reasons to join SOLDIER. He wants to become "the best of the best, like Sephiroth."
"Stamp is not just a piece of propaganda for children, but also a symbol and metaphor for Cloud himself."
Now a self-styled mercenary who only works for money, Cloud frequently finds himself in heroic roles: When you lose a fight, he sometimes groans, "Some hero I am."
He has many interactions with children (and their caretakers), who are vulnerable but filled with aspirations and potential. While the adults are oft frustrated by Shinra's machinations–including Cloud himself–the children often still aspire to heroics.
At one point, a group of kids wander off to fight monsters, and need to be rescued.
None are discouraged though, and can be seen swinging wooden toy swords shaped like Cloud's iconic Buster Sword. Cloud encourages them to keep on practicing every day to become skilled.
Among the town, his reputation evolves from suspicion to respect, and even though he's an ex-SOLDIER, he unwittingly develops into a hero for himself and community, rather than for Shinra — a 'legitimized' institution.
At Leaf House, an orphanage where the kids come from, the housemothers don aprons with a large print of Stamp, suggesting the pup's complete integration into society, and thus, pedagogy.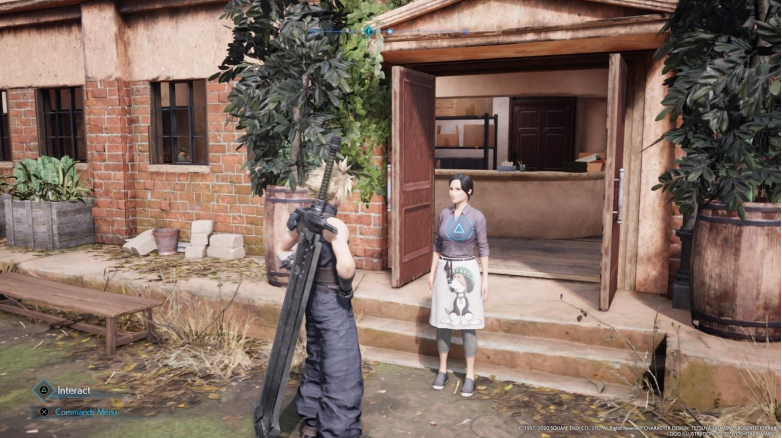 We can assume children are familiar with the Stamp theme song. Some of the lyrics, while describing a typical dog, also parallel Cloud's actions or psychosis. Everybody thinks he's swell, but there are many qualifiers:
He's a good boy who never stops keeping the city safe from each and every one / Even though you don't remember how to sit or how to stay / Even though you bark at nothing when you think you're all alone.
Cloud's trauma after leaving SOLDIER manifests as memory loss of his identity and visions of Sephiroth or other premonitions that cause him to pause, staring blankly at those around.
Moreover, much of the text and dialogue of the remake use 'doggy' metaphors as well.
Though nowhere near an extensive list, Barrett's efforts at sizing up Cloud include several examples: "SOLDIERs may attack on command, but I bet they make good guard dogs, too," or "have it your way, mutt.".
Chapter titles keep the theme, too: "Dogged Pursuit" and "Mad Dash" among them.
When a character says that Cloud needs manners he's called a "bitch". Various NPCs spout lines including "Would you help me clean this puppy up?", or "some stray from the path"; "The turks are all the same. All bark…No bite."
Dog words often express condescension and ownership, especially in Stamp's theme song, where the singer grants Stamp as straying but never with autonomy. A young but supreme authority figure judges Cloud explicitly:
"You're a SOLDIER, aren't you?" he starts, "Which, of course, would mean that I own you."
Interestingly, we see children interact with real dogs — including one with similar spotting to Stamp — and they demonstrate by turns wariness or endearment. There are weaponized, genetically engineered dogs as enemies, too, to make sure the game's messaging is driven home.
~
Even though it is all textual, Final Fantasy VII 's Disney and wartime imagery work as real-world analogies. In an interview with USGamer producer Yoshinori Kitase had some thoughts about its politics. "[The] message depicted in Final Fantasy 7 is strictly within the realm of fantasy, and so it is something more universal [than environmental issues]."
Developers will deny any politics when questioned from American audiences who expect it. But art will comment regardless and inadvertently, even if it tries only to be fantasy.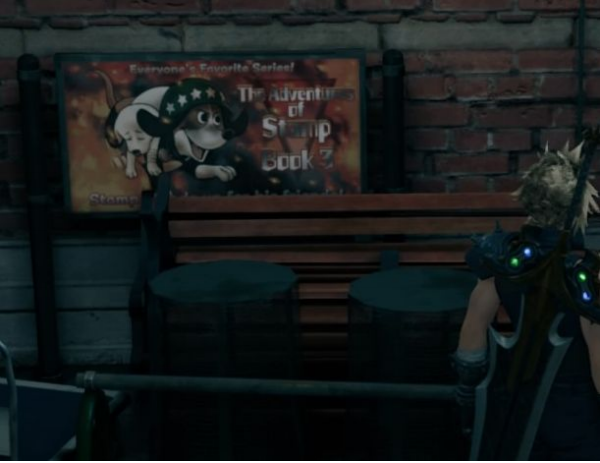 Through Stamp and Cloud, Final Fantasy VII illustrates a culture industry that is controlled by one singular corporation, which doesn't care about culture at all. Rather, all roads point to expansion, economic and military. It is not far or very unlike our world's own media, which isn't the most democratically produced.
But we can carve our own path and give guidance to children and to the vulnerable. We can reclaim heroism and brotherhood from evil institutions and develop them for ourselves or to use against them.
Matt is a freelance writer from a small town who has previously written for Kill Screen. He likes to cook and read, but never both at the same time. You can see his tweets at @shade_of_freud