Groundhog day.
Advisory: The game featured in this story is likely to be rated M for Mature.
You're trapped on an island. Everyone is out to kill you. There's no escape.
Not even through death.
Deathloop is Arkane Studios' upcoming first person shooter: It's also likely to be a marquee title in Microsoft's acquisition of Zenimax/Bethesda — an anomalous timed console exclusive on the PS5 published by a competitor — and a major part of the early days of the next console generation.
Deathloop puts you in the shoes of Colt, a man who experiences time reversing every time he dies, the day starting anew. In order to end the loop, Colt needs to kill eight key targets called the Visionaries. As if the entire population of Blackreef, the mysterious island that the game is set on, being out for his blood wasn't enough, there's an assassin who is also experiencing the effects of the time loop, and she's out to kill Colt in every single replay.
Seeing all of this play out–from the weapons to the game's mechanics to the beautifully realized world that's thus far been showcased–takes me back to one of my favourite game franchises of all time: TimeSplitters.
Crow and Julianna
In Deathloop every time you die the world resets. Colt is the only one that remembers his actions in previous time loops on the island, with the one exception being the only other assassin in the area, Julianna Blake. This is the game's antagonist, someone just like Colt, but instead of trying to kill the eight targets, she aims only to kill him. 
In Julianna Blake lies a direct parallel with Crow, the antagonist of TimeSplitters: Future Perfect, a character who becomes a hideous monster both inside and out by game's end. Throughout every mission in Future Perfect, players are ultimately working undo Crow's work, the creation of TimeSplitters, and control over time and mortality. In Deathloop, players are trying to end the time loop that they're caught in, and Juliana wants to help keep it going.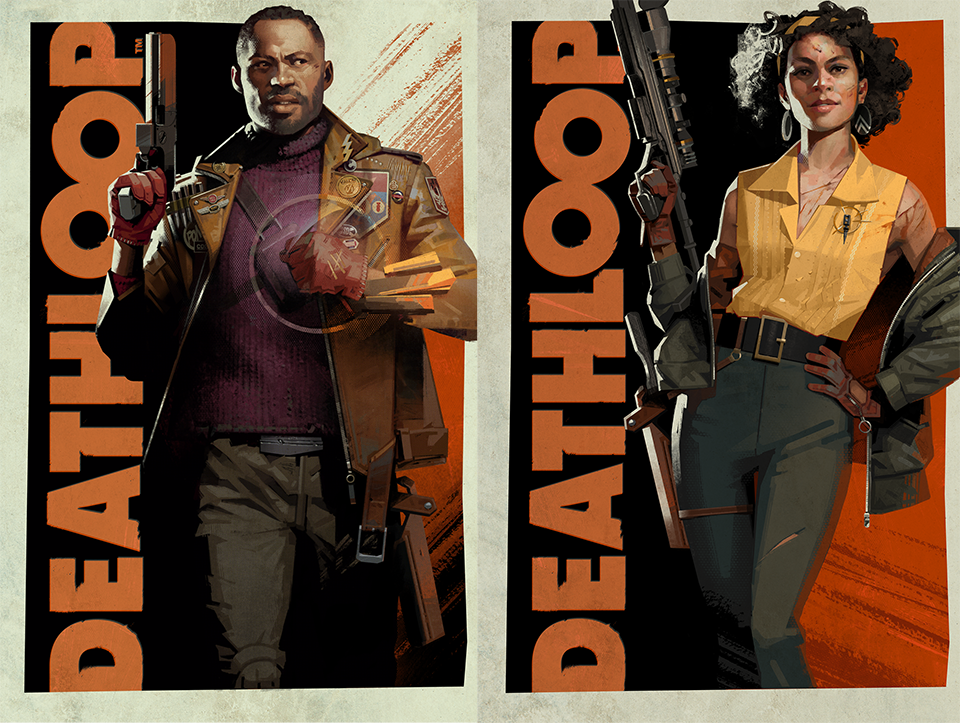 In both of these games the player and the antagonist are working towards singular goals that are intrinsically linked. They're both on a path that will see them clash multiple times, and still they fight on, each one trying to outmaneuver the other; in Future Perfect it all comes to a glorious final boss battle, but I can envision Arkane Studios twisting the conventions in new and exciting ways.
Uplink to Link up
Cole possesses a device attached to his arm that resembles the Temporal Uplink from TimeSplitters: Future Perfect. In Deathloop, however, it looks like Cole can manipulate time to teleport, and move objects or people. In Future Perfect, players could move objects by manipulating time in the exact same way.
Move off spooky magic, hello time-based weaponry!
Future Perfect had the Disruptor Grenade and Dispersion Gun, while Deathloop just has Cole's arm attachment. In Future Perfect, players could use these weapons to push enemies or trap them in time bubbles. Death Loop looks to bind these abilities to Cole's arm, allowing players to wield all of that power in one place.
If Cole is manipulating time will he ever run out of ammunition?
It's not yet clear if the eight targets in Deathloop also know of the time loop they're stuck in. What matters though is that Colt does, and he uses it to his advantage. Not only does he have the ability to bend time and space to his will, however limited it is, he can also use the knowledge he's gained in previous time loops to help him avoid death in the next one.
Time is our playground
Another piece of evidence that this is a time manipulation device instead of the usual sci-fi 'teleportation power' comes later in the game's trailer. Colt pushes an enemy away from him, throwing them through the glass frontage of a store, using nothing but a hand gesture. In the wake of the enemy being pushed back we can see shards of reality popping in and out of existence.
In Future Perfect, there are multiple scenes throughout the game where Cortez gets himself stuck in an impossible situation. While hacking a console essential to progressing he's assaulted by wave upon wave of robots.
Past and future versions of Cortez help out: One Cortez simply shouts the password for the console and disappears again. Another comes through to keep the robots at bay, and a third enters the room to advance through the door present Cortez is opening. It all plays out incredibly well, with the player heading through time portals in the same room to fulfil the roles of each Cortez, eventually moving out of the room when he has done everything required of him to help his past self.
Time is a central mechanic in TimeSplitters just as it is in Deathloop.
It's time to split!
Future Perfect needed to force players through time portals and into the shoes of each version of Cortez because they wouldn't have worked it out for themselves. This is typical of game design of the time, but we're in 2020 now, and Arkane Studios is changing things up.
Deathloop and the TimeSplitters franchise seem to share so much of the same DNA that it's hard to believe they aren't set in the same universe. Even the character designs seem to share the same slightly elongated faces. Add in that some of the developers who worked on various TimeSplitters games now work at Arkane Studios, and things start to become a little clearer.
We don't have a statement telling us that yes, all of these games are set in the same universe, but it seems likely doesn't it? Even if every similarity covered here is purely coincidental, what's clear is that TimeSplitters directly influenced a number of the systems and mechanics found in Deathloop. Whether that's through a love for those games, or a group of people trying to bring a universe they created back to life in some small way, TimeSplitters is very much part of the DNA of Arkane Studio's latest game.
I bet I can tell you Colt's final line though. "It's time to split!"
Jamie's been playing games since I was about 8, and I refuse to stop now! I love writing about games almost as much as I love playing them, my all-time favourite has to be TimeSplitters 2.
Images: Arkane / Bethesda